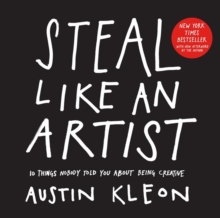 Steal Like an Artist : 10 Things Nobody Told You about Being Creative
Paperback
Description
When asked to talk to students at Broome Community College in upstate New York in the spring of 2011, Austin Kleon wrote a simple list often things he wished he'd heard when he was their age: 'Steal like an artist; Don't wait until you know who you are to start making things; Write the book you want to read; Use your hands; Side projects are important; Do good work and put it where people can see it; Geography is no longer our master; Be nice (the world is a small town.); Be boring (it's the only way to get work done.); and, Creativity is subtraction.' After giving the speech, he posted the text and slides to his popular blog, where it quickly went viral.
Now Kleon has expanded his original manifesto into an illustrated guide to the creative life for writers, artists, entrepreneurs, designers, photographers, musicians, and anyone attempting to make things - art, a career, a life - in the digital age.
Brief, direct, and visually interactive, the book includes illustrative anecdotes and mini-exercise sections calling out practical actions readers can take to unleash their own creative spirits.
Free Home Delivery
on all orders
Pick up orders
from local bookshops
Reviews
Showing 1 - 5 of 21 reviews.
Previous | Next
Review by paulsignorelli
16/06/2015
Although Austin Kleon's playfully engaging new book jolts us all a bit with his use of "steal" in the title, his intent clearly is to help us understand that 'stealing like an artist' suggests a level of interaction with our sources of inspiration that leaves no room or encouragement for outright acts of plagiarism. Steal begins with David Bowie's admission that "The only art I'll ever study is stuff that I can steal from'; gathers steam with Yohji Yamamoto's advice to "Start copying what you love. Copy copy copy copy. At the end of the copy you will find your self'; and leads us to a list of recommended readings that should, if it is not already, be familiar to any of us interested in taking a creative approach to all we undertake. Along the way, Kleon leads us through his 10 thoughts on the theme of unlocking our creativity. And while much of what he has written is far from novel to those of us who have been exploring creativity for many years, the book is cleverly presented and serves as an homage both to sources he acknowledges and others he may not yet personally have encountered.
Review by phlll
16/06/2015
Quite possibly one of the best books aspiring (or burned out) artists can read. It shows some simple ways to get ideas from everyday life.<br/><br/>Plus, there aren't a lot of words, so this is a 20-minute read at best. But it's the kind of thing you'd pay to see at a college, or hear at a business seminar that would have a >$250 cover charge. And it's like $11.<br/><br/>I recommend this to everyone. Even you.
Review by GTWise
16/06/2015
There is unlikely to be anything informative for you to digest in this work; that is not the point. If he had submitted anything novel or anything requiring careful consideration, the book would no longer serve its useful purpose (and it would feel out of place given the emphasis he places on the fact that there is nothing new under the sun). Rather, the book brings you back to an earlier point in your creative process and gives you encouragement, then it gives some friendly nods to some of the ideas that have probably been dancing around your head anyway. It is not that the message is in any way new, it is the presentation, the way it is delivered to the reader that gives it quality.The book is an encouragement, a pick-me-up. It made me smile while considering a couple of the creative endeavors I have allowed to fall by the wayside lately. You should be able to read the entire thing in twenty, maybe thirty, minutes. Keep it on hand and return to it every so often, it seems to me that this is the ideal use of the book.
Review by John_Pappas
16/06/2015
I would recommend this book along with "Unwork" to any new hires at the library. Both place creativity within the greater context of one's work flow.
Review by akmargie
16/06/2015
Great book on being creative and creating from one of my favorite artist.