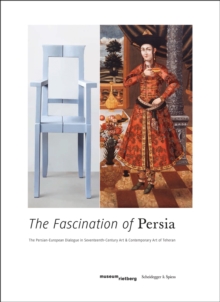 Fascination of Persia: Persian-European Dialogue in Seventeenth-Century Art and Contemporary Art of Teheran
Paperback / softback
Description
Since the early 17th century, Europe and Persia have had a close association; Persia became the longed-for destination of many travellers, craftsmen, monks and knights.
They travelled to Isfahan, the magnificent capital, to be received at court; they brought works of art and luxury goods with them in exchange for the finest silks and precious rugs to take back home which had a lasting influence on European and Persian art of the 17th and early 18th centuries. Few people today are aware of this important trading relationship; current political, religious and ideological differences dominate our perception of Iran today.
Yet aside from this, modern Tehran has a rich and vibrant artistic life. This book explores the creative and artistic links between Persian and Europe over four centuries.
Focusing on work by seven contemporary artists from Tehran, it provides an insight into a new modern Persia and its place within the international art world.
At the same time, the reader is offered a fresh view of ancient art shown in contrasting juxtaposition.
Information
Format:Paperback / softback
Pages:320 pages
Publisher:Scheidegger und Spiess AG, Verlag
Publication Date:11/08/2017
Category:
ISBN:9783858817396