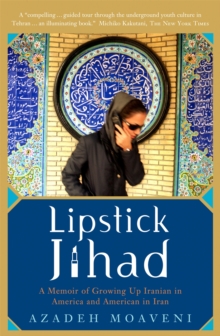 Lipstick Jihad : A Memoir of Growing Up Iranian in America and American in Iran
Paperback
Description
As far back as she can remember, Azadeh Moaveni has felt at odds with her tangled identity as an Iranian-American.
In suburban America, Azadeh lived in two worlds. At home, she was the daughter of the Iranian exile community, serving tea, clinging to tradition, and dreaming of Tehran.
Outside, she was a California girl who practiced yoga and listened to Madonna.
For years, she ignored the tense standoff between her two cultures.
But college magnified the clash between Iran and America, and after graduating, she moved to Iran as a journalist.
This is the story of her search for identity, between two cultures cleaved apart by a violent history.
It is also the story of Iran, a restive land lost in the twilight of its revolution. Moaveni's homecoming falls in the heady days of the country's reform movement, when young people demonstrated in the streets and shouted for the Islamic regime to end.
In these tumultuous times, she struggles to build a life in a dark country, wholly unlike the luminous, saffron and turquoise-tinted Iran of her imagination.
As she leads us through the drug-soaked, underground parties of Tehran, into the hedonistic lives of young people desperate for change, Moaveni paints a rare portrait of Iran's rebellious next generation.
The landscape of her Tehran , ski slopes, fashion shows, malls and cafes , is populated by a cast of young people whose exuberance and despair brings the modern reality of Iran to vivid life.
Information
Format: Paperback
Pages: 272 pages
Publisher: INGRAM PUBLISHER SERVICES US
Publication Date: 28/03/2006
Category: Middle Eastern history
ISBN: 9781586483784
Free Home Delivery
on all orders
Pick up orders
from local bookshops
Reviews
Showing 1 - 5 of 6 reviews.
Previous | Next
Review by lizzybeans11
16/06/2015
Overall I like the voice of this author. I appreciate her conflicts of "normal" adolescence and young adult-hood of longing for a "home" and stability. She gives a nice summary of the political conflicts at the time, mixed with her personal dealings of the situation.I bought this book in 2005 and since then I feel like the market of contemporary Iranian/Persian memoires has been saturated. I would like to see more Arab/Arab American perspectives of current events - and not only from those of the Islamic faith.
Review by Seajack
16/06/2015
Author is very intelligent, and writes well, but her agonizing over her bi-cultural background (not fitting in anywhere) grew old fast!
Review by CasualFriday
16/06/2015
Time magazine journalist Azadeh Moaveni was born in America, a child of Iranian exiles. Twenty years after the Islamic revolution, she moved to Iran to report on Iran in general and the burgeoning reform movement in particular. She confronted her ambivalence about her heritage and her sense of alienation from both American and Iranian culture. This should make for a riveting book, and I did learn a lot that I did not know about Iran, but the author's voice was so irritating that the reading experience was absolutely painful. It may be an affectation, but the author presented herself as so self-involved, shallow and yuppified that I was almost rooting for the mullahs against her. Ms. Moaveni, the story of modern Iran is really, really, really not all about you, okay?
Review by labfs39
16/06/2015
I read Lipstick Jihad after reading her second memoir, Honeymoon in Tehran. While both books are a combination of chic lit and serious reporting on youth culture in Iran, I found Honeymoon in Tehran to be better at both. Her writing there is more mature, although she continues to focus almost exclusively on upper-class Tehrani. I would love to see her spend some time on the countryside and write about youth life there. I suspect even she would be surprised by what she found.
Review by dele2451
16/06/2015
I found this book interesting and enlightening. There are certainly some fascinating insights regarding the way an immigrant's ethnicity is celebrated (or not) based on their homeland's current "popularity" in the US. I also enjoyed reading about popular misconceptions held by non-Iranians about the culture and the contrasts between the pre and post-revolutionary lifestyles. I would have enjoyed reading more details about the author's personal interactions with the governing officials and clerics in Iran. Overall, a worthwhile read.
Also by Azadeh Moaveni