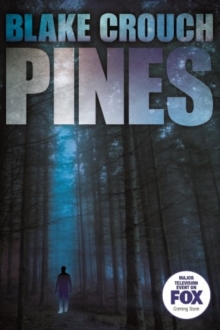 Description
The international runaway bestseller is now a Major Television Event from executive producer M. Night Shyamalan, starring Matt Dillon Thursdays on FOX or catch up on Amazon Instant Video.
Secret service agent Ethan Burke arrives in Wayward Pines, Idaho, with a clear mission: locate and recover two federal agents who went missing in the bucolic town one month earlier. But within minutes of his arrival, Ethan is involved in a violent accident. He comes to in a hospital, with no ID, no cell phone, and no briefcase. The medical staff seems friendly enough, but something feels...off. As the days pass, Ethan's investigation into the disappearance of his colleagues turns up more questions than answers. Why can't he get any phone calls through to his wife and son in the outside world? Why doesn't anyone believe he is who he says he is? And what is the purpose of the electrified fences surrounding the town? Are they meant to keep the residents in? Or something else out? Each step closer to the truth takes Ethan further from the world he thought he knew, from the man he thought he was, until he must face a horrifying fact-he may never get out of Wayward Pines alive.
2013 International Thriller Award Nominee
Information
Format: Paperback
Pages: 320 pages
Publisher: Amazon Publishing
Publication Date: 21/08/2012
ISBN: 9781612183954
Other Formats
eAudiobook MP3 from £16.19
Free Home Delivery
on all orders
Pick up orders
from local bookshops
Reviews
Showing 1 - 5 of 11 reviews.
Previous | Next
Review by Darcia
16/06/2015
Caution: this is one of those books you'll want to stay up all night reading. The characters and story hooked me from the start. As with all of Blake Crouch's books, the writing here is vivid. I felt like I was experiencing it all right alongside the characters.Pines is a thriller with nonstop action. There are some great twists, and the ending took me by complete surprise. The last few pages gave me one of those rare 'wow' moments. If you're looking for an adrenaline rush, this one's for you.** I received this book as an advanced review copy. **
Review by DTChantel
16/06/2015
Once you start reading this book, it will be absolutely impossible to put it down until you've read it all! This is what a book should be. As a horror fan, I must say that this book addressed every fear possible and some scenes were so chilling, they literally did send shivers down my spine. The writing was so good you felt like you were there, experiencing everything.<br/><br/>Even though I knew the ending was going to be something pretty unique, I still didn't expect the ending when it came. Some books you read and then forget about three months later. This one, and all the characters and events in it, is one I will never forget!
Review by dougcornelius
16/06/2015
Something is very wrong with Ethan Burke, a Secret service agent sent to Wayward Pines to investigate the disappearance of two other agents. Very soon it become clear that something is also very wrong with Wayward Pines. But there is little wrong with this page-turning thriller. It's well crafted to keep you barreling to find out what is wrong and whether Burke will be able to find his memory, his sanity, and a way out.
Review by jessie-A
16/06/2015
I had a good time reading this book! The plot is pretty all over the place but in a good way. The strangeness of it all keeps you turning the pages, and I was barely able to put the book down.Blake Crouch's imagination is crazy. He has a great ability to put insanity together. In Pines, he built a strange blend of contemporary thriller and paranormal adventure. When a Secret Service agent goes looking for his missing friends, he finds himself in a situation very different from anything he's ever experienced... with no way out. Odd things are happening in this town, things he cannot explain. With chilling intent, he tries to discover the secrets of the inhabitants, only to be stopped at every turn by an imposing, sadistic sheriff or the staff at hospital.
Review by ctpress
16/06/2015
Wow. What a triller. What a ride. From page one this one grabs you, makes you guess what's going on. Secret service agent Ethan Burke arrives in Wayward Pines, Idaho, to locate two missing federal agents. But when he arrives he's involved in a car accident, and is badly hurt and looses his memory. He seek help at the hospital, but something feels very ehem….off…people are behaving strange and the town seems like something out of a fifties-movie. It's a suspenseful start, but it becomes very violent and horrifying. Not for the weak of heart - and the ending? Well, what an imagination...To tell you more would be spoiling the fun. This one was hard to put down - or should I say turn off - as it was an audiobook. There's two more in this series as I understand it - and I'm hooked. Not great character development or anything like that, but when it comes to suspense it has it all.
Also in the The Wayward Pines Trilogy series