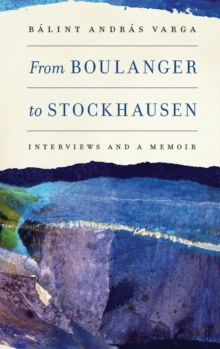 From Boulanger to Stockhausen : Interviews and a Memoir
Hardback
Description
Balint Andras Varga makes available here for the first time in English nineteen extended interviews with some of the most notable figures in music from the past fifty years, as well as lively snippets from interviews Varga conducted with thirteen other equally renowned musicians.
The interviewees include singers Elisabeth Schwarzkopf and Cathy Berberian; pianists Alfred Brendel and Arthur Rubinstein; violinists Isaac Stern and Yehudi Menuhin; conductors Claudio Abbado and Sir Neville Marriner; composers Gyoergy Ligeti and Karlheinz Stockhausen; and legendary pedagogue Nadia Boulanger.
Of special interest is an interview with the reclusive composer Gyoergy Kurtag, here published for the first time in any language. From Boulanger to Stockhausen concludes with a poignant memoir by Varga of his experiences growing up in a Jewish family in Hungary during World War II and the early years of Communist rule.
Varga's recollections also include details about his many interviews with some of these remarkable musicians, and about his employment at the Hungarian state radio station and then in the music-publishing industry, which brought him to, among other places, Vienna, where he now lives. Interviewees: Claudio Abbado, Georges Auric, Cathy Berberian, Nadia Boulanger, Ernest Bour, Alfred Brendel, Aaron Copland, Sir Neville Cardus, Antal Dorati, Adam Fischer, Ivan Fischer, Geza Frid, Sir William Glock, Sylvia Goldstein, Alois Haba, Ralph Kirkpatrick, Gyoergy Kurtag, Walter Legge, Gyoergy Ligeti, Witold Lutoslawski, Sir Neville Marriner, Yehudi Menuhin, Eugene Ormandy,Vladlemuter, Arthur Rubinstein, Gyoergy Sandor, Elisabeth Schwarzkopf, Isaac Stern, Karlheinz Stockhausen, Wolfgang Stresemann, Walter Susskind, Hans Swarowsky, Joseph Szigeti, Tibor Varga. Balint Andras Varga has spent more than forty years working for and with composers.
His previous books include Gyoergy Kurtag: Three Interviews and Ligeti Homages and Three Questions for Sixty-Five Composers, both published by the University of Rochester Press.
Information
Format: Hardback
Pages: 410 pages
Publisher: Boydell & Brewer Ltd
Publication Date: 15/10/2013
ISBN: 9781580464390
Free Home Delivery
on all orders
Pick up orders
from local bookshops
Also in the Eastman Studies in Music series | View all