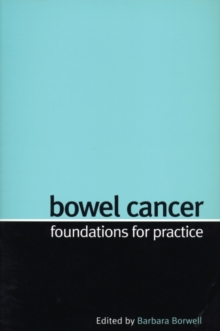 Bowel Cancer
Paperback / softback
Description
Colorectal cancer is one of the most common killers of the 21st century. "Bowel Cancer" will develop the reader's knowledge and skills in both theory and practice and will enable nurses to demonstrate a good understanding of the problems posed by bowel cancer.
This increased awareness provides opportunities for nurses to develop strategies that further enhance the quality and effectiveness of patient care.
Acknowledging the vital role of a good working relationship for those engaged in the different aspects of care, the book provides a comprehensive introduction to colorectal cancer for all health professionals.
From evolution and treatment to patient and family-centred care, including consideration of an individual's social, spiritual and psychological needs, either in the hospital or the community setting, "Bowel Cancer" is an excellent overall guide for all healthcare professionals.
Information
Format: Paperback / softback
Pages: 280 pages
Publisher: John Wiley and Sons Ltd
Publication Date: 01/12/2004
Category: Oncology
ISBN: 9781861564528