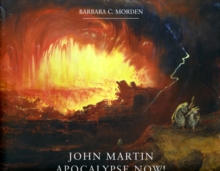 John Martin : Apocalypse Now!
Hardback
Description
John Martin's many influential works brought him huge popularity in his lifetime and his paintings have gone on to inspire film-makers, designers and artists in Europe and America.
This beautifully illustrated book makes an important contribution to the revival of national and international interest in him and will complement a forthcoming touring exhibition.
Establishing the context of Martin's youth in rural Northumberland, his career in London and subsequent national and international fame, Morden captures the apocalyptic mood in England from the 1790s to the 1840s and examines Martin's central position as a painter of the "sublime".
The distinctive character of his work is explored through key paintings in terms of his techniques, devices and subject matter and their relationship to the culture and of popular entertainment of the time.
Influencing 19th century railway and public architecture, Martin's reputation spread to Europe and America, going on to determine the course of early 20th century cinema and anticipate inter-active mass media in the 21st century. This book establishes John Martin as an important figure in cultural history, shaping the way we view and respond to our modern world.
Also by Barbara C. Morden