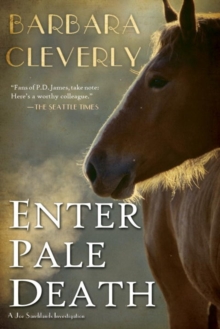 Enter Pale Death
Hardback
Information
Format: Hardback
Pages: 362 pages
Publisher: Soho Press Inc
Publication Date: 02/12/2014
Category: Crime & mystery
ISBN: 9781616954086
Other Formats
Paperback from £7.69
eAudiobook MP3 from £19.28
Free Home Delivery
on all orders
Pick up orders
from local bookshops
Reviews
Showing 1 - 3 of 3 reviews.
Review by jmoncton
16/06/2015
Lady Lavinia Truelove suffers a violent death after an encounter with a vicious and dangerous horse. It must be an accident since who could possibly manipulate a horse into killing a person? But Scotland Yard Inspector, Joe Sandilands, is suspicious that this is no chance accident. And investigating the case has much more importance than the usual mystery because Lady Truelove's husband is an important figure in the political scene, with aspirations of becoming Prime Minister. To add to the tangled web, Lord Truelove is also the academic mentor for Dorcas Joliffe, Joe's sweetheart, and Dorcas' relationship with Lord Truelove seems to be moving toward a much closer personal tie. And finally, as Joe begins to investigate on the Truelove estate, he uncovers a mysterious death of a young housemaid that occurred 25 years ago and was said to be suicide.There are definitely enough plot twists and convolutions to satisfy the most ardent fan of police procedurals. Add in the setting - England in the 1930's - and you've got a well crafted period thriller. Cleverly does an excellent job of incorporating the time and setting into the story. From what people are wearing to the attitudes of the times, you quickly find yourself immersed into post World War I England. One of the aspects that I enjoyed the most is that the witnesses and suspects came from both the high born gentry as well as the serving class. It was very interesting to see the two very different sets of values and perspectives on life. Think of it as <i>Downton Abbey</i> meets <i>Masterpiece Mystery</i>! The audiobook was well performed by Matthew Brenher, who does a nice job of throwing in a wide display of accents for the various characters from the well schooled Lord Truelove to all of the 'downstairs' staff. Definitely an enjoyable mystery!
Review by Cherylk
16/06/2015
Some books just can't be read if you have not read any of the other books in the series. I felt because this was my first time reading a gook in this series that this did affect the way I felt about this book some. I only say some because this book was boring. It still would have been that way even if I had developed a relationship with Joe. The book started out ok but then it grew really slow and uninteresting quickly. First off, the death scene was a little blimp on my first clue to dull town. I was reading and than like ok so there is a body. I had to go back and re-read the moment that Lady Lavinia was crushed by the horse as I was already on my way to zoning out and it did not make an impression on me. Then there is nothing intriguing about Joe. In fact, he would look like any other regular "Joe". The rest of the characters did not come alive on the pages. I was already about to chapter 7 and it seemed like the investigation had not began yet. Again because I had no prior knowledge of Joe, I was not feeling the relationship between him and Dorcas. Some books sound better than they really turn out to be.
Review by delphimo
16/06/2015
I have always enjoyed the Joe Sandilands series, but this latest novel misses the point. The book rests its case on too much dialogue that sounds like uneducated dribble. I finished the book with very little sense of the area or the people. The bright star of the novel becomes an insignificant character, the vet Adelaide. Will Joe pursue this highly intelligent and fetching vet and leave Dorcas? Adelaide explains to Joe that he needs to step away from Dorcas and if interested in Dorcas to court her as a new woman and not as the young girl he met so long ago.