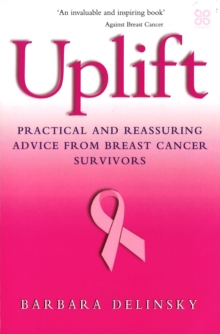 Uplift : Practical and reassuring advice from breast cancer survivors
Paperback / softback
Description
In Uplift bestselling popular novelist and cancer survivor Barbara Delinsky creates exactly the resource she wished had existed at the time of her treatment.
Delinsky has collected a compendium of survival secrets that have nothing to do with doctors, machines or drugs and everything to do with women helping women.
In her uplifting new book women recount the strategies that helped them through all aspects of cancer, including diagnosis, treatment, support groups and how to best conduct relationships with family, friends and in the workplace.* The practical and emotional side of losing a breast* Advice on what to expect from radiotherapy* How to handle chemotherapy and hair loss* How to make the workplace more user-friendly* Advice on your relationship with your partner and your sex life* Top exercise tips* How to take charge of your life and remain positive.
Information
Format: Paperback / softback
Pages: 240 pages
Publisher: Little, Brown Book Group
Publication Date: 11/09/2002
Category: Oncology
ISBN: 9780749923372