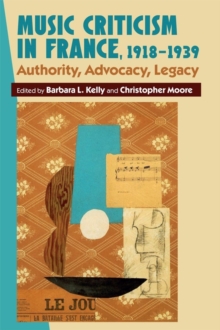 Music Criticism in France, 1918-1939 - Authority, Advocacy, Legacy
Hardback
Description
Music Criticism in France examines the aesthetic battles that animated and informed French musical criticism during the interwar period (1918-1939).
Drawing upon a rich corpus of critical writings and archival documents, the book uncovers some of the public debates surrounding classical music in the immediate aftermath of the Great War until the eve of World War II.
As such, it provides new insights into the priorities, values and challenges that affected the musical milieu of this war-bound generation. This collection of essays brings together scholars from different areas of musicology and related humanities disciplines; it also draws on different anglophone and francophone intellectual traditions.
As well as considering the reception of individual works, the contributors examine key individuals, composer-critic pairings, the composer as critic and technician, the role of influential journals, and music criticism as a pedagogical tool for concert-going and radio audiences. Focusing on the themes of authority, advocacy and legacy, it shows the contribution of principal critics such as Vuillermoz, Vallas, Prunieres, Schloezer and Koechlin to shaping our understanding of music in the first half of the twentieth century in France.
We see how criticism contributes to national and transnational preoccupations and agendas, which were of considerable importance throughout the interwar period and continue to have relevance today. BARBARA L. KELLY is Director of Research and Professor of Musicology at the Royal Northern College of Music, Manchester. CHRISTOPHER MOORE is Associate Professor of Musicology at the University of Ottawa. Contributors: PHILIPPE CATHE, MICHEL DUCHESNEAU, KIMBERLY FRANCIS, JACINTHE HARBEC, BARBARA L.
KELLY, PASCAL LECROART, CHRISTOPHER MOORE, RACHEL MOORE, JANN PASLER, CAROLINE RAE, DANICK TROTTIER, MARIANNE WHEELDON
Information
Format: Hardback
Pages: 360 pages
Publisher: Boydell & Brewer Ltd
Publication Date: 12/06/2018
Category: Music reviews & criticism
ISBN: 9781783272518