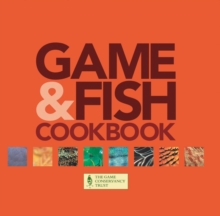 Game & Fish Cookbook : With the Game Conservancy Trust
Hardback
Description
There are very few 'classic' cook books but the original The Game Cookery Book, compiled by Julia Drysdale on behalf of The Game Conservancy Trust stands along for all aficionados of game and fish recipes. The original book has been completely revised and updated by Barbara Thompson together with Liz Scott of The Game Conservancy Trust.
New colour photography has been specially commissioned to illustrate the modern and imaginative recipes. Includes many exciting ideas from:Rick SteinHugh Fearnley-WhittingstallPrue Leith.
The Game and Fish Cookbook retains the helpful hints, techniques and instructions which have made the original edition so invaluable and each section is complemented by a specific wine guide supplied by the leading wine importer H&H Bancroft. This book will stand as the benchmark cookery book for game and fish cuisine for future generations and will become a much sought-after classic in its own right.
Information
Format: Hardback
Pages: 288 pages
Publisher: Quiller Publishing Ltd
Publication Date: 08/11/2002
Category: Cookery by ingredient
ISBN: 9781904057161