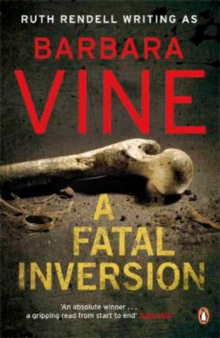 A Fatal Inversion
Paperback
Description
A Fatal Inversion - a classic thriller from the queen of crime Barbara Vine 'An absolute winner ... a gripping read from start to end' Daily Mail'Brilliant.
Vine has the kind of near-Victorian narrative drive ... that compels a reader to go on turning the pages' Sunday TimesIn the long hot summer of 1976, a group of young people are camping in Wyvis Hall.
Adam, Rufus, Shiva, Vivien and Zosie hardly ask why they are there or how they are to live; they scavenge, steal and sell the family heirlooms.
In short, they exist. Ten years later, the bodies of a woman and child are discovered in the Hall's animal cemetery.
Which woman? Whose child?'I defy anyone to guess the conclusion ... the clues are cunningly planted, so that it seems one should have known all along.
A most satisfying end' Daily Telegraph'Nimbly written with all the Dickensian values of vivid characterization, fine prose style and a cunningly devised plot that shifts and twists and keeps you on the edge of your chair' Val Hennessy, Daily MailA Fatal Inversion is a modern classic of the crime genre.
If you enjoy the novels of P.D. James, Ian Rankin and Scott Turow, you will love this book.Barbara Vine is the pen-name of Ruth Rendell.
She has written fifteen novels using this pseudonym, including A Fatal Inversion and King Solomon's Carpet which both won the Crime Writers' Association Gold Dagger Award.
Her other books include: A Dark Adapted Eye; The House of Stairs; Gallowglass; Asta's Book; No Night Is Too Long; In the Time of His Prosperity; The Brimstone Wedding; The Chimney Sweeper's Boy; Grasshopper; The Blood Doctor; The Minotaur; The Birthday Present and The Child's Child.
Information
Format: Paperback
Pages: 320 pages
Publisher: Penguin Books Ltd
Publication Date: 07/05/2009
Category: Crime & mystery
ISBN: 9780141040479
Other Formats
EPUB from £3.99
Paperback from £8.99
Free Home Delivery
on all orders
Pick up orders
from local bookshops
Reviews
Showing 1 - 3 of 3 reviews.
Review by HighlandLad
16/06/2015
A psychological crime thriller, it's hardly a whodunit, more a whatwasdun, and even more, a whowasdun... and why? There's some truly expert plotting in this story. Privileged 19 year-old student Adam Vere-Smith inherits from his great-uncle the old country house of Ecalpemos (read it backwards) in the lovely English Suffolk countryside around Nunes (Bures?), and in the long hot summer of 1976 sets up a hippy-like commune for the season. There's a terrific sense of time and place built in, and the characters are all highly realistic, none enitrely loveable, all with major character flaws, prejudices and imperfections. Just like real life. But the book is written from the viewpoint of autumn 1986, when the police have uncovered human bones, dating back about 10 years. Who killed who, and why? It comes to a thrilling conclusion – though those who insist on a traditional Hollywood-style ending may be left slightly miffed. Totally original, it's impossible to put down once started, so be warned, and enjoy...
Review by jayne_charles
16/06/2015
I think Ruth Rendell/Barbara Vine likes writing about Bohemian Youth types, and there are plenty of them in this book. The atmosphere is created very well, but I wasn't too sure about the plot. There wasn't very much mystery, as it was clear from an early stage what had happened. I was waiting for a clever twist but it didn't materialise
Review by ruthm2010
16/06/2015
The story begins when the bodies of a young woman and a baby are found buried in the grounds of a country house. Ten years before a group of young people had spent the summer there and gradually the story of what happened unfolds. A wickedly clever twist at the end makes you want to immediately re-read. Gripping.