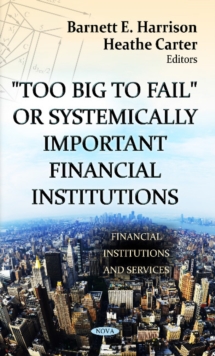 Too Big to Fail or Systemically Important Financial Institutions
Hardback
Description
Although "Too Big to Fail" (TBTF) has been a perennial policy issue, it was brought to the forefront by the near-collapse of several large financial firms in 2008.
Financial firms are said to be TBTF when policy-makers judge that their failure would cause unacceptable disruptions to the overall financial system.
Financial firms can be TBTF because of their size or interconnectedness.
In addition to fairness issues raised by preventing a TBTF firm from failing, economic theory suggests that TBTF causes a moral hazard problem.
Moral hazard refers to the fact that if TBTF firms know that failure will be prevented, they have an incentive to take greater risks than they otherwise would because they are shielded from the negative consequences of those risks.
This book discusses the economic issues raised by TBTF, the historical experience with TBTF before and during the recent crisis, an analysis of broad policy options, and policy changes made by the relevant Dodd-Frank provisions.
Information
Format: Hardback
Pages: 181 pages
Publisher: Nova Science Publishers Inc
Publication Date: 19/10/2012
Category: Banking
ISBN: 9781620816882
Free Home Delivery
on all orders
Pick up orders
from local bookshops