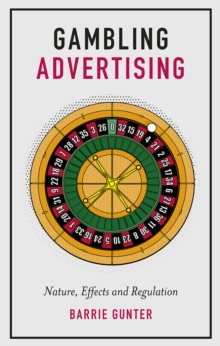 Gambling Advertising : Nature, Effects and Regulation
Hardback
Description
There is a growing concern about the rise of gambling in many countries.
With the expansion of online gambling opportunities and the relaxation of restrictions on gambling around the world, the industry has increased their investment in marketing activities.
The use of diverse and highly visible promotional reminders has been identified as an important influence on problem gambling.
Gambling critics, activists and some media campaigns have called for tighter controls over gambling advertising and some national governments have begun to review their legislation and regulatory practices.
Gambling Advertising: Nature, Effects and Regulation examines these issues and reviews empirical research about the role of advertising and other forms of marketing in the encouragement of gambling behaviour.
However, despite the accumulation of research evidence about the nature and effects of gambling advertising and promotion over the first two decades of the 21st century, there are still gaps in our knowledge.
In its attempts to clarify the effectiveness of specific restrictions on the location, amount and nature of gambling advertising, this book will aid university teachers and researchers working in fields such as advertising and marketing, business, communications and media, leisure, and advertising and gambling regulation.
Information
Format:Hardback
Pages:208 pages
Publisher:Emerald Publishing Limited
Publication Date:15/04/2019
Category:
ISBN:9781787699243