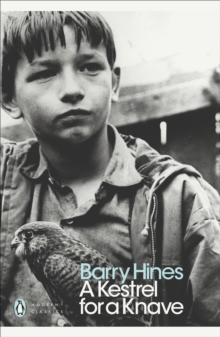 A Kestrel for a Knave
Paperback
Description
With prose that is every bit as raw, intense and bitingly honest as the world it depicts, Barry Hines's A Kestrel for a Knave contains a new afterword by the author in Penguin Modern Classics.Life is tough and cheerless for Billy Casper, a troubled teenager growing up in the small Yorkshire mining town of Barnsley.
Treated as a failure at school, and unhappy at home, Billy discovers a new passion in life when he finds Kes, a kestrel hawk.
Billy identifies with her silent strength and she inspires in him the trust and love that nothing else can, discovering through her the passion missing from his life.
Barry Hines's acclaimed novel continues to reach new generations of teenagers and adults with its powerful story of survival in a tough, joyless world.Ken Loach's renowned film adaptation, Kes, has achieved cult status and in his new afterword Barry Hines discusses his work to adapt the novel into a screenplay, and reappraises the legacy of a book that has become a popular classic.Barry Hines (b. 1939) was born in the mining village of Hoyland Common, near Barnsley, South Yorkshire.
Leaving Ecclesfield Grammar School without any qualifications, Hines worked as an apprentice mining surveyor for the National Coal Board before entering Loughborough Training College to study Physical Education.
Working as a teacher in Hoyland Common, he wrote novels in the school library after work, later turning to writing full-time.If you enjoyed A Kestrel for a Knave, you might like The Call of the Wild, White Fang, and Other Stories by Jack London, published in Penguin Classics.
Information
Format: Paperback
Pages: 208 pages
Publisher: Penguin Books Ltd
Publication Date: 25/05/2000
ISBN: 9780141184982
Other Formats
Paperback from £6.65
Hardback from £10.00
EPUB from £3.99
Free Home Delivery
on all orders
Pick up orders
from local bookshops
Reviews
Showing 1 - 4 of 4 reviews.
Review by edwinbcn
16/06/2015
A kestrel for a knave is a very harsh story, that offers a glimmer of hope, which is then ruthlessly dashed. The drama of the story brings out the hopelessness of growing up in poverty and the lower working class.The setting of the novel is bleak, a grey, colourless indefinite miner's town northern England's Yorkshire. Billy Casper is on the verge of becoming a school drop-out, grown up in an anti-social broken-up family, neglected by his mother and bullied by his older brother, with whom he shares a bed. Billy drifts from petty theft, to a future of hopelessness.In an act of thoughtlessness, more as a prank, he pulls a young kestrel hawk out of a nest, and decides to tame it.Training a hawk is no mean feat. The first step is for Billy to take his responsibility, having taken down the young kestrel. Unable to find the books he needs in the library, he steals a book about falconry from the bookstore. Training the kestrel involves knowledge, skill, courage, self-confidence and perseverance. Unknown to himself, the young Billy experiences incredible personal growth, noticed by one of his teachers who comes out to observe Billy's mastery in falconry.The novels ends with a drama, as his envious and mean brother, finds a way to hurt Billy deeply over a trivial matter, weighing a small amount of money more than immaterial culture and achievement.A kestrel for a knave will inspire educators. It is nowadays classified as a YA novel, which epithet however should not withhold adult readers from picking it up and reading it, as it is a very moving story.Penguin Books has included A kestrel for a knave, originally published in 1968, in its series of Modern Classics, with a new afterword by the author, Barry Hines, written in 1999. The afterword discusses the background to the novel, its reception and success, and the very successful film adaptation.
Review by soylentgreen23
16/06/2015
It's hard to imagine how Barry Hines's evocative character study could have been much better than it is. The afterword certainly suggests a couple of alterations, but frankly I really enjoyed his story as it was - and I got a lot more out of it than I had hoped.I've never been a big fan of books set in a school; perhaps my own experiences are still too recent in my memory; perhaps it is because I have accidentally become a teacher myself, although no more than a lowly English language teacher in foreign private schools. But that changed with 'A Kestrel For A Knave.' The writing is full of life and colour, enough to balance the dim greyness of the landscape and city life described. There is comedy here, too, though it is run through with a great sadness, like a clown being stabbed.
Review by shanaqui
16/06/2015
I think the other English group read A Kestrel for a Knave, back at GCSE, but it never really appealed to me. Still, it was there today at the library, so I picked it up. It's pretty short, and there are no chapters. It's kind of an odd format to tell a story, just like maybe a boy is sat down and spilling out his story without thinking of how to structure it. Which makes sense, of course, considering the main character. It's pretty grim, too. Working class life in England back when teachers could still hit students, etc, etc.<br/><br/>I found some of it lovely -- particularly the way Billy opens up to talk about Kes, and the way one of his teachers treats him kindly. The story he writes for the class is a little heart-breaking in how simple his little lies are; for his brother to be gone, his father to be home, teachers to actually like him.<br/><br/>I don't feel like I have much to say about it, in the end, though. I wish I did -- obviously it's worth studying and thinking about, but I just didn't connect with it much -- for all that it's set near where I grew up.
Review by eadieburke
27/01/2016
This book is a glimpse of what 80's northern England was like and the sense of hopelessness of a town that lost it's industry. It is a very inspirational and moving story and the unfortunate situation of Billy's life draws you in. His kestrel that he has raised and trained gives him a focus and a sense of responsibility. He is a character that's very easy to identify with. You cannot help but feel a sense of hope in the sensitivity he displays and the beauty he finds in nature. I highly recommend this very touching novel.
Also in the Penguin Decades series | View all