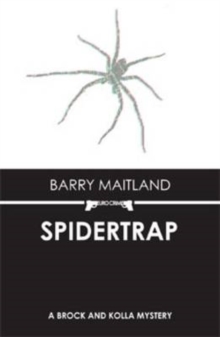 Description
Skeletons are discovered in a wasteland behind Cockpit Lane, a poor largely black area of inner south London, and DCI David Brock and DS Kathy Kolla of Scotland Yard's Serious Crimes Branch are called in to investigate.
The discovery that the victims died during the Brixton riots, over twenty years before, lead Brock and Kolla on a dark and dangerous journey in which past and present come together in an intricate web of deception and intrigue as Brock encounters a formidable old antagonist, Spider Roach.
In a desperate search to find a crucial piece of evidence, Brock and Kolla unwittingly set in train a series of events that erupt in a shocking, violent conclusion.
Written with Maitland's characteristically vivid sense of character and place, "Spider Trap" is Maitland at his scrupulously plotted, complex and compelling best.
Information
Format: Paperback
Pages: 369 pages
Publisher: Arcadia Books
Publication Date: 25/06/2009
Category: Crime & mystery
ISBN: 9781906413378
Free Home Delivery
on all orders
Pick up orders
from local bookshops
Reviews
Showing 1 - 2 of 2 reviews.
Review by gaskella
16/06/2015
Barry Maitland is the author of a series of nine crime novels so far featuring the team of 'Brock and Kolla'. Some years ago, I remember reading one of the earlier ones, The Chalon Heads which was set in the world of stamp collecting. A plot involving gangsters and forgers behind the philately made an otherwise potentially dry subject a rather good read. Interestingly, for a Brit who relocated to Australia in the mid 1980s, Maitland's series is set in and around London. Returning to the area where he grew up for his novels, Spider Trap is set south of the river in Lambeth. Scotland Yard's Brock and Kolla are a classic police pairing – David Brock is the mature and experienced DCI, and DS Kathy Kolla is his insightful younger colleague, working in the Serious Crime Squad (SCI).The story starts off with the bodies of two girls being discovered in a garage; they had been shot in the head and there was evidence of crack cocaine use. It would have been put down to just another gang murder, but the local MP Michael Grant, a charismatic young Jamaican, raised the profile and the SCI were called in. A young lad at the school next door, snuck onto the wasteground near the train tracks hoping to find the gun, but instead found a human jawbone before getting electrocuted on the rails, but his discovery leads to a further three bodies being found. However, these had been buried over twenty years previously! It appears that the same weapon was used – what's the connection?DCI Brock is ideally placed, as he started his detective career in Lambeth, and he remembers the Brixton Riots of 1981, and a local family, the Roaches, who ran organised crime in the area, headed by the formidable 'Spider' Roach. Now he and his sons are running successful seemingly legitimate businesses, it's hard for Brock to believe that they're not involved, but you can't make arrests without concrete evidence. The investigation gets going, and Brock and Kolla concentrate on identifying the older bodies, investing hours of legwork on the case, but all the while Brock is sure that the Roach family is behind it somehow.Off duty, Kolla is starting a relationship with another police officer, Tom Reeves from Special Branch. Reeves is used to working undercover and using unconventional methods to get results, but when he shows interest in the case, Brock is happy to have him seconded in to help – Kathy isn't so sure this is a good thing. All the hard slog begins to pay off and the MP Grant is very helpful – but they still need that incontrovertible proof to put the Roaches away. Then events take a significant turn, (more I cannot say), but everything escalates and the ensuing chaos can only lead to a confrontation with Spider Roach.Fans of police procedurals will enjoy this novel. As with any series, starting at the beginning can offer the rewards of getting to know the main characters intimately, however Spider Trap worked very well on its own. Brock and Kolla are both professional and competent, but also very likeable, complementing each other's abilities well. Their working relationship has an almost familial aspect to it – Uncle and favoured niece perhaps.Naturally the first half of the novel is involved with setting the scene, and giving us the back story about the Jamaican immigrants to the area, the Brixton riots and the current culture; the locations are all vividly described and realistic. In the second half as plot twists come thick and fast, the action gets more complex and page-turning. I shall definitely be returning to the Brock and Kolla series. The fifth in the series Silvermeadow set in a large mall like those giant temples to shopping outside London sounds particularly attractive, but I shall probably start at the beginning...
Review by dudara
16/06/2015
I've been working in Amsterdam for over 2 months now, most of which has been spent living out of a suitcase in the Marriott hotel. The Marriott has recently refurbished all of their lobby area, including the executive lounge. The lounge now features some bookshelves which are stocked with new, unread books. As I had just finished my current book, I went downstairs to the lounge and did a swap for "Spider Trap" by Barry Maitland. Granted, the choice was limited, but Maitland's book did seem interesting.A shooting of two teenage girls in inner South London leads to the unearthing of 3 skeletons on an abandoned patch of ground. DCI David Brock and DSI Kathy Krolla are assigned to the case, which takes them back in history to the Brixton riots of 1981 and brings them face to face with a long-established London crime family, headed by Spider Roach.This novel is one of a series of nine in the Brock and Krolla series, written by Maitland, who has lived in Australia since the mid-1980s. Despite this, Maitland sets his novels in the neighbourhood of his childhood, South London. Despite such a legacy, this novel is a worthwhile read in its own right and will probably entice a lot of readers to pick up more of Maitland's novels.Maitland skillfully mixes the past and present as he tells this story of organised crime and murder. The story is firmly embedded in the culture of the area and builds well towards the end. His story of a white family controlling all black crime, while distancing themselves from the law is intriguing. But ultimately, they doom themselves through a foolish act. This is a well-written, classy crime novel that isn't sensationalist, but instead intelligent.