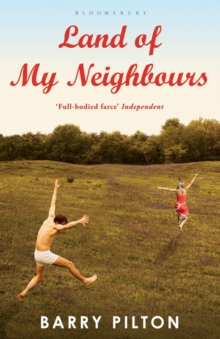 Land of My Neighbours
Paperback
Description
In sleepy mid-Wales the inhabitants of the Nant Valley are reeling from a double-death in a ditch and a shock act of vandalism that threatens to put the tiny town of Abernant on the map.
When a lovelorn hill-sheep farmer is revealed as the vandalism culprit, and jailed for molesting a statue, the race for his land is on.
But it is not just farmers who throw their caps into the ring.
Stefan, wealthy foreign incomer and would-be squire, has ambitions beyond organising the Nant's first croquet orgy, and is after a vista big enough to contain his ego.
Young Rhys has just got a diploma in Business Studies and hopes to lure middle managers to bond in mud on wilderness weekends. And Gwyn, magistrate and conservationist, longs to create a nature reserve for his beloved birds, but first has to find the funds.
Elsewhere in the valley, life is punctuated by the museum's exhibitions of grass paintings, the Lord-Lieutenant's doodle auction, a policeman's lethal first-aid courses, and the sound of dynamite as the 'squire' gets impatient with his trout. Meanwhile the futures of a penniless playboy, a history teacher on the game, and a dealer in penis replicas hang in the balance as everyone awaits the outcome of the land auction.
But when a cat goes walkabout late on a wet afternoon, a bizarre sequence of events changes all the odds.
Information
Format: Paperback
Pages: 256 pages
Publisher: Bloomsbury Publishing PLC
Publication Date: 21/06/2010
ISBN: 9781408804377
Free Home Delivery
on all orders
Pick up orders
from local bookshops
Reviews
Showing 1 - 1 of 1 reviews.
Review by jayne_charles
16/06/2015
A bit like David Lodge meets Terry Pratchett, this was wittily written farce set in the Welsh valleys. Most of the humour comes from the lofty prose, making it feel as though one is watching the daft goings-on from a seat in the gods. The events themselves were hit and miss as far as I was concerned - the subtle savagery of the corporate jolly was brilliant, whereas I failed to 'get' a lot of the stuff about the pub – but the writing was magical.The author has a habit of teasing the reader with situations which look like something they are not. For example the ageing police sergeant and his wife who take a blow up doll with them on their evening out. Other scenes may intervene before a satisfactory explanation is offered (phew, they're running a first-aid workshop). I learned to accept such scenarios in the sure and certain knowledge that clarification would be along presently.I hadn't read the author's previous novels set in the same location, and it didn't matter because this one is perfectly capable of standing alone. I may well seek them out in the future, though.
Also by Barry Pilton