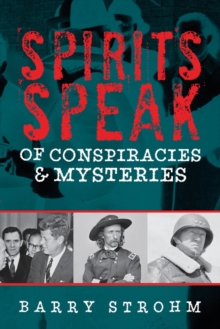 Spirits Speak of Conspiracies and Mysteries
Hardback
Description
Throughout history, individuals have planned events that have harmed others and some of these actions have become conspiracy theories and mysteries.
Through spirit board communications with the other side, explore the details of 26 of the world's most famous cases.
Learn what President John Kennedy has to say about his own assassination and murder.
Consider the words of General George Custer as he tells what happened at the Battle of the Little Big Horn-and who killed him.
Find out about the murder of Abraham Lincoln and trace the strange events surrounding John Wilkes Booth.
Discover secrets of Billy the Kid, Butch Cassidy, General George Patton, manipulation of the weather, the alien conspiracy, and much more.
As you will soon see, the spirits on the other side know all and are willing to talk about it.
Information
Format: Hardback
Pages: 192 pages, 27 colour & b/w photos
Publisher: Schiffer Publishing Ltd
Publication Date: 28/02/2017
ISBN: 9780764352690