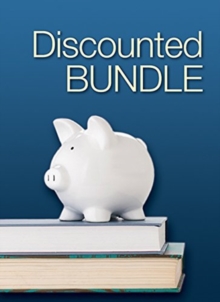 BUNDLE: Brummett: Rhetoric in Popular Culture 4e + Brummett: Techniques of Close Reading
Mixed media product
Description
We offer these texts bundled together at a discount for your students!Barry Brummett, Rhetoric in Popular Culture, Fourth Edition The Fourth Edition of Barry Brummett's Rhetoric in Popular Culture provides readers with in-depth insight into the techniques of rhetorical criticism to analyze the full spectrum of contemporary issues in popular culture.
From movies, magazines and advertisements, to social networking sites, music videos and television shows, Dr. Brummett presents key rhetorical concepts and applies them with critical analysis to a variety of exciting examples drawn from today's popular culture.
Moving from theory to practice throughout the text, Brummett links concepts in an easy-to-understand way.
Rhetoric in Popular Culture covers the concept rhetoric, itself, as well as its place and dynamic change in history, and offers methods to effectively employ rhetorical criticism in daily life.
The new edition includes pertinent critical essays and case studies that show readers how the critical methods discussed can be used to study the hidden rhetoric of extended texts, and more.
Barry Brummett, Techniques of Close Reading In a world in which messages increasingly ask us to believe, accept, buy, and follow, the ability to read texts closely in order to gain a deeper understanding of their meanings is an indispensable survival skill.
Techniques of Close Reading is a brief book that helps students see what texts may be saying, be they written, oral, visual, or mediated.
Renowned scholar and professor Barry Brummett explains and explores the various ways to "read" messages (such as speeches, cartoons, or magazine ads), teaching students how to see deeper levels of meaning and to share those insights with others.
Students learn techniques for discovering form, rhetorical tropes, argument, and ideologies within texts. This book differs from other books in rhetorical criticism, textual analysis, or critical thinking by: Focusing on the act and techniques of criticism rather than on schools of thought, grand theories, and specific methods, thus helping students to engage in the act of critical close reading in ways that are congenial to a wide range of methods - making the book an ideal companion to texts focused on specific methodsExplaining the relationships among theory, methods, and techniques of rhetorical criticismExamining the ethics and risks of doing and reading rhetorical criticism via plenty of examples, figures, and exercises taken from everyday life Serving as a brief, affordable text, thus allowing instructors the flexibility to assign other textbooksPlease contact your Sales Representative for more information.
Information
Format: Mixed media product
Publisher: SAGE Publications Inc
Publication Date: 04/04/2014
Category: Communication studies
ISBN: 9781483358697
Free Home Delivery
on all orders
Pick up orders
from local bookshops