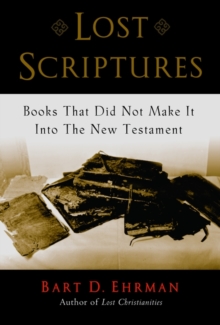 Lost Scriptures : Books that Did Not Make It into the New Testament
Paperback
Description
We may think of the twenty-seven books of the New Testament as the only sacred writings of the early Christians, but this is not at all the case.
Lost Scriptures offers an anthology of up-to-date and readable translations of many non-canonical writings from the centuries after Christ-texts that have for the most part been neglected or lost for nearly two millennia.
Here is an array of remarkably varied writings from early Christian groups whose visions of Jesus differ dramatically from our contemporary understanding.
Readers will find Gospels supposedly authored by the apostle Philip, James the brother of Jesus, Mary Magdalen, and others.
There are Acts originally ascribed to John and to Thecla, Paul's female companion; there are Epistles allegedly written by Paul to the Roman philosopher Seneca. And there is an apocalypse by Simon Peter that offers a guided tour of the afterlife, both the glorious ecstasies of the saints and the horrendous torments of the damned, and an Epistle by Titus, a companion of Paul, which argues page after page against sexual love, even within marriage, on the grounds that physical intimacy leads to damnation. In all, the anthology includes fifteen Gospels, five non-canonical Acts of the Apostles, thirteen Epistles, a number of Apocalypes and Secret Books, and several Canon lists.
Ehrman has included a general introduction, plus brief introductions to each piece.
Lost Scriptures gives readers a vivid picture of the range of beliefs that battled each other in the first centuries of the Christian era. It is an essential resource for anyone interested in the Bible or the early Church.
Information
Format: Paperback
Pages: 352 pages
Publisher: Oxford University Press Inc
Publication Date: 15/09/2005
Category: History of religion
ISBN: 9780195182507
Free Home Delivery
on all orders
Pick up orders
from local bookshops
Reviews
Showing 1 - 2 of 2 reviews.
Review by jontseng
16/06/2015
Fascinating reading. Just don't take it as Gospel!
Review by mldavis2
16/06/2015
I don't know how to rate this book since there is minimal, but appropriate, comment by the author. It is essentially a representative collection of documents written around the time of the Christ event (50-300 C.E.) many of which were discovered after the current canon was "established." All of these writings were excluded from current canon usage either because they were not available during the selection process, they were hidden, they were censored, or they were part of the canon of branches of Christianity that died out and were lost.This book is a companion and sequel to Ehrman's book <b><i>The Lost Christianities </i></b> which gives the historical background of the fits and starts, successes and failures of the early believers. I would strongly recommend reading that book first, and there are frequent references to it in the footnotes. The current book is a collection of the writings from that time and includes much from the recently discovered Nag Hammadi library and other recently found sources as well as other writings passed over for one reason or another.Ehrman is a biblical archaeologist and as such deals with facts, translations and examples. It is not a book of faith and belief, and Ehrman gives only a brief contextual introduction to each translation. The translations contain letters, gospels and apocalyptic writings not found in the current canon, and those who hold the current biblical canon as "inerrant" may well be shocked when they venture outside of their familiar comfort zone to realize what's out there and what got left behind. Highly recommended to open minded readers who want to see the bible in its historical context.