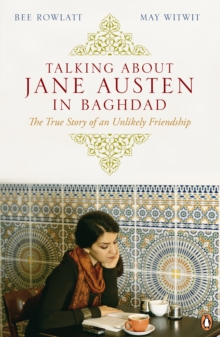 Talking About Jane Austen in Baghdad : The True Story of an Unlikely Friendship
Paperback
Description
A London mum and Iraqi teacher should have nothing in common.
Yet now, despite their differences, they're the firmest of friends . . . Talking About Jane Austen in Baghdad by Bee Rowlatt and May Witwit is a touching and poignant portrait of an unlikely friendship.Would you brave gun-toting militias for a cut and blow dry?May's a tough-talking, hard-smoking, lecturer in English.
She's also an Iraqi from a Sunni-Shi'ite background living in Baghdad, dodging bullets before breakfast, bargaining for high heels in bombed-out bazaars and battling through blockades to reach her class of Jane Austen-studying girls.
Bee, on the other hand, is a London mum of three, busy fighting off PTA meetings and chicken pox, dealing with dead cats and generally juggling work and family while squabbling with her globe-trotting husband over the socks he leaves lying around the house.They should have nothing in common.But when a simple email brings them together, they discover a friendship that overcomes all their differences of culture, religion and age.
Talking About Jane Austen in Baghdad is the story of two women who share laughter and tears, and swap their confidences, dreams and fears. And, between the grenades, the gossip, the jokes and the secrets, they also hatch an ingenious plan to help May escape the bombings of Baghdad . . .Bee Rowlatt is a former show-girl turned BBC World Service journalist.
A mother of three and would-be do-gooder, she can find keeping her career going while caring for her three daughters (and husband) pretty tough, even in leafy North London.
May Witwit is an Iraqi expert in Chaucer and sender of emails depicting kittens in fancy dress.
She is prepared to face every hazard imaginable to make that all-important hairdresser's appointment.
Information
Format: Paperback
Pages: 384 pages, None
Publisher: Penguin Books Ltd
Publication Date: 04/02/2010
Category: Memoirs
ISBN: 9780141038537
Free Home Delivery
on all orders
Pick up orders
from local bookshops
Reviews
Showing 1 - 5 of 5 reviews.
Review by LyzzyBee
16/06/2015
Borrowed from AliBee is a busy mother and journalist in London. May is a harassed University teacher in Baghdad, dodging bullets and bombs just to get to the hairdresser, let alone to work. They make contact for a news programme then keep in email contact for a number of years. Their lives are contrasted as their share more and more details, and as May and her husband find their situation getting worse and worse, Bee and her family try to find a way to get them out to the UK.Harrowing in its details, this is one of those books that's important to read, but not too worthy. Although they do obviously decide to write a book together part way through the narrative, and you do see the effect of this decision in their emails a bit, it does also seem to be an honest portrayal of their friendship, with arguments and worries as well as support and jolly stories about children. It is of course impossible to imagine what life was like for May and Ali in Iraq, but we are in Bee's position there, as she worries about gabbling about childcare and cupcakes when her friend's world is falling apart. But it's the little details of friendship that help both women get through, and that's an important lesson to take from the book, along with the bigger political and historical implications.
Review by helenleech
16/06/2015
Fabulous true-life correspondence between a journalist in London and an academic in Baghdad. Great insight into Iraqi life during the war. But about 100 pages too long. Could have done with some judicious editing.
Review by kiwifortyniner
16/06/2015
This book is the story of the emails that were sent between Bee Rowlatt in England, and May Witwit in Iraq. The two woman met through a phone call. Bee, a journalist was wanting to talk to someone about life in Iraq. A close friendship resulted and emails went back and forth over many years. They were never meant to be a book. Both womem reveal the details of their every day life. A great contrast. We hear of the enormous daily difficulties that May, a unviersity lecturer, and her husband face in Iraq. Their problems escalate until they reach the point where they cannot cope any longer in that country and the emails then tell of the struggle that took place to try and get them out of the country safely. This was a very moving story. The lives of the two women were so completely different. It was at times heartbreaking to read of May's life. Just to keep going on a day to day basis and not give up must have been so hard. And I felt for Bee too writing to May, and trying to keep her hopes up.- writing of things that she said felt so trivial compared with what May's life was like BUT at the same time realising that she was in fact helping to keep May going and that they had indeed become like family to each other. I wonder how May is now!!!
Review by nicx27
16/06/2015
This is a book of email correspondence between Bee Rowlatt and May Witwit. Bee is a journalist living in London and working for the BBC World Service, and she is put in touch with May Witwit, a lecturer in Baghdad. They became extremely close friends through their emails.This book showed a stark difference between the lives of the two women. Bee has three children and has the usual concerns of juggling work, marriage and family. May, however, tells in her emails of life living in Baghdad after the invasion and after Saddam Hussein has been overthrown. She writes of bombs, assassinations and shootings.I started off not knowing if I would find this book a little boring, but I soon got into it and enjoyed reading about the women's lives. Bee decides to assist May in getting her and her husband out of Baghdad and over to England and the ending of the book actually moved me to tears.Despite it being a normal email correspondence, with all the trivial details that friends often write to each other, I found this to be the sort of book where I wanted to read just another email, and then just another. It's very readable and I enjoyed it very much.
Review by bookbatty
16/06/2015
I enjoyed this book a lot. Reading it made me think of the email friendship I have with a lovely lady who lives in another country. Shows how much we can support and encourage each other even if we don't live in the same country. recommend this book to anyone interested in reading about real people.
Also by Bee Rowlatt