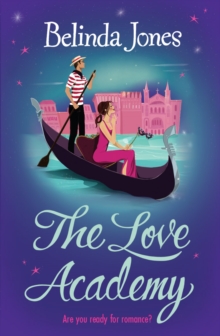 The Love Academy
Paperback
Description
Do you have enough romance in your life? Journalist Kirsty Bailey would have to answer no. She has the essential starter kit - a boyfriend - but somehow Joe seems to have skipped the vows of for better/for worse and gone straight to for granted.
But then just as she's on the verge of settling for a swoon-free existence, Kirsty's magazine sends her to a majestic Venetian palazzo to attend the much gossiped-about Love Academy...Her undercover mission?
To prove her editor's theory that this 'school for singles' is nothing more than an escort agency with a sexy accent and fancy glass chandeliers.
But what if her editor is wrong and their promise of true amore is for real?
Will Kirsty be able to resist the kind of moonlit temptations she's been dreaming of for years, or is her relationship with Joe going, going, gondola?
If you think Casanova was a bad boy, just wait until you see what Cupid has in store for Kirsty...
Information
Format: Paperback
Pages: 400 pages
Publisher: Cornerstone
Publication Date: 01/07/2007
ISBN: 9780099489887
Free Home Delivery
on all orders
Pick up orders
from local bookshops
Reviews
Showing 1 - 2 of 2 reviews.
Review by wyvernfriend
16/06/2015
It's a light and fluffy look at a school for romance in Venice. Kirsty is a journalist working for a magazine that has decided that the lowest common denominator is a place to aim for. Stars and gossip are the be-all and end-all of the magazine and she's been selected to go to Venice to try out this Love Academy. Despite her relationship with Joe or maybe because of her relationship to Joe, she's willing to go. She begs and cajoles her brother Kier to go with her, broken heart and all, his heart having been broken in Venice. She finds herself attracted to her assigned date. Romanced by the idea of romance and seduced by the idea of being in love with herself and understanding herself a bit like an Italian. She questions her life, her love and her purpose and finds herself along the way.There's sometimes a little too much detail about Venice. It's almost a travelogue. The food is described in detail (but then again it is Italy, Kirsty is describing what catches her fancy and it is realistic). Some of the other characters disappear and some are broad stroked charactures that never really come alive off the page but Kirsty is full of character and quite an enjoyable person to spend some time with (though I do have a sneaking suspicion that we might get bored of each other with too much exposure!)It's a fun read, a read that diverted me through a few bus trips without too much trauma, and that's what it's ideal for. Nothing deep, fun.
Review by eesti23
16/06/2015
I would almost say that this book is worth it just for the quotes at the beginning of each chapter but it also ended up being a pretty okay read. While parts were pretty obvious, disgruntled journalist goes to Italy to find out details about a Love Academy and starts to fall for an Italian, other parts were not so predictable. The story is enjoyable, humorous in places, frustrating in others but probably leaving you ready to pack your bags and head to Italy.