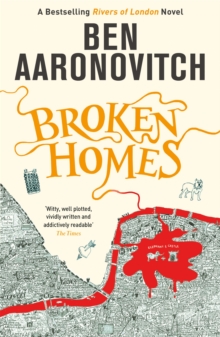 Broken Homes : The Fourth PC Grant Mystery
Paperback
Part of the PC Grant series
Description
Ben Aaronovitch has stormed the bestseller list with his superb London crime series.
A unique blend of police procedural, loving detail about the greatest character of all, London, and a dash of the supernatural. A mutilated body in Crawley. Another killer on the loose. The prime suspect is one Robert Weil - an associate of the twisted magician known as the Faceless Man? Or just a common garden serial killer? Before PC Peter Grant can get his head round the case, a town planner going under a tube train and a stolen grimoire are adding to his case-load.
So far so London. But then Peter gets word of something very odd happening in Elephant and Castle, on an housing estate designed by a nutter, built by charlatans and inhabited by the truly desperate.
Is there a connection? And if there is, why oh why did it have to be South of the River?
Full of warmth, sly humour and a rich cornucopia of things you never knew about London, Aaronovitch's series has swiftly added Grant's magical London to Rebus' Edinburgh and Morse's Oxford as a destination of choice for those who love their crime with something a little extra.
Information
Format: Paperback
Pages: 368 pages
Publisher: Orion Publishing Co
Publication Date: 08/05/2014
Category: Fantasy
ISBN: 9780575132481
Free Home Delivery
on all orders
Pick up orders
from local bookshops
Reviews
Showing 1 - 3 of 3 reviews.
Review by AHS-Wolfy
16/06/2015
This 4th instalment in the Rivers of London series sees Peter and Lesley continuing to track potential Little Crocodiles so when a name on their list pops up after a road traffic incident who is subsequently found to have dumped a dead body they are more than a little intrigued. There's also another former potential who's committed suicide by jumping in front of a train but as the footage of the incident looks a little off then that also gets passed their way. And as if that wasn't enough to be going on with, Peter spots a grimoire in the recovered goods database and manages to track down the person who was trying to flog it only to find him burned to a crisp from the inside out when he goes to pay him a visit. Upon further investigations each of these cases seems to have a link to noted architect Erik Stromberg and Skygarden Tower, his housing project in the Elephant and Castle. When an opportunity arises, Nightingale allows Peter and Lesley to go undercover as new residents to see what they can dig up. Will it all lead to another appearance from the Faceless Man?Setting up each strand of the plot takes a while so this book takes its time before kicking in to top gear especially when everything comes to a halt while the team have to provide policing for the Spring Court, an event held by the Lord and Lady of the River so their subjects could pay their respects. While the pacing may be a little off there is still plenty here to retain the interest. Many familiar faces make an appearance throughout the story and Nightingale features quite heavily feeling the need to almost chaperone Peter and Lesley with the threat of the Faceless Man hanging over their heads. The fact that those ensconced at the Folly still have to adhere to proper police procedures while dealing with the extraordinary is still a novel feature of this series. Readers looking to add a little magic to their mysteries could do worse than pick this series to try though best start with book #1 as there is an overriding arc that underlies all of the stories. For those that are continuing the series but haven't read this one yet I might suggest to wait until the next book is available as the ending, while not a cliffhanger per se, is shocking enough that you might want to continue to find out how that part of the story unfolds.Another excellent addition to what's turning out to be a very good series.
Review by imyril
16/06/2015
Another entertaining with PCs Grant and May as they try to get to the bottom of the Faceless Man's sudden interest in brutalist architecture. Back on form after the last installment; I thoroughly enjoyed this, not least for the resplendent Lieutenant Varvara Tamonina and Molly's experiments in (post)modern cuisine.
Review by reading_fox
27/08/2015
Epub is somewhat oddly formatted into dual columns for no reason I can explain or change. Doesn't effect readability. Fourth in Pater Grant's adventures in the Folly of magical policing in London. Continuing his quest to find the arch nemesis FacelessMan that broke Leslie's face. Peter and Leslie come up with a cunning plan to 'bait' a trap with the one thing they think FM can't yet have - a magic staff. IN the process of doing so they find some unusual architecture within some of London's finest concrete council estates. Despite all their precautions it gets a bit complicated. Fortunately the rivers don't get very involved, although there are yet more instances of Peter and Nightingale realising there is more to the world than they expected - mostly because Ben is just making up new stuff to fit each plot in turn without being too concerned about the previous books. THis si a major drawback in the series. I felt this instalment was a bit too rushed, almost a filler for the series, with little actually happening despite the very dramatic ending! Fun if you've enjoyed the rest this is no worse than the others but it' lacking in a sense that there was ever a planned direction for the whole thing.