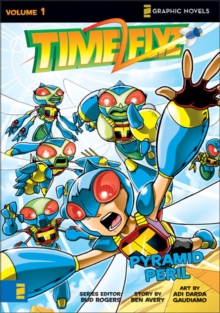 Pyramid Peril
Paperback / softback
Description
In this first volume of the TimeFlyz graphic novels, Laurel finds herself kidnapped by some kind of robotic bugs who claim she is the key to saving the world from ... a spider? After being whisked through a time portal, Laurel must decide between believing these strange cyborg insects, who claim they need her knowledge of history, or listening to the voice in her head that says they're better off without her. Laurel Templeton is normal, and that's the problem: not only is her dad a world-renown scientist and her mother a trailblazing brain surgeon, her younger brother is a bestselling poet.
So when four robotic flies show up claiming she's the key to saving humanity, she doesn't exactly believe them. And when they transport her through a time portal with little explanation, she ditches the mission at the first opportunity.
But being stuck in ancient Egypt is no fun, and when she meets the flies' powerful nemesis, she realizes maybe she does have something special to contribute after all.
Though is it too late?Pyramid Peril:is great for readers 10 and upcombines science and history with a funny and action-packed storylinewill appeal to young fans of graphic novels, anime, and roboticscan be used in the classroom as a supplementary book, specifically on Imhotep and the era of the ten plagues, or as a basic introduction to the concepts of mass, time, and light waves
Free Home Delivery
on all orders
Pick up orders
from local bookshops
Also in the Z Graphic Novels / TimeFlyz series | View all