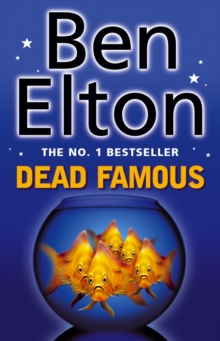 Description
One house. Ten contestants. Thirty cameras. Forty microphones. Yet again the public gorges its voyeuristic appetite as another group of unknown and unremarkable people submit themselves to the brutal exposure of the televised real-life soap opera, House Arrest.
Everybody knows the rules: total strangers are forced to live together while the rest of the country watches them do it.
Who will crack first? Who will have sex with whom? Who will the public love and who will they hate? All the usual questions. And then, suddenly, there are some new ones. Who is the murderer? How did he or she manage to kill under the constant gaze of the thirty television cameras?
Why did they do it? And who will be next?
Information
Format: Paperback
Pages: 384 pages
Publisher: Transworld Publishers Ltd
Publication Date: 01/07/2002
ISBN: 9780552999458
Other Formats
Paperback from £7.09
EPUB from £3.99
Free Home Delivery
on all orders
Pick up orders
from local bookshops
Reviews
Showing 1 - 5 of 11 reviews.
Previous | Next
Review by bookmindful
16/06/2015
This was a great mystery for our annual book club "figure out whodunnit" meeting. Funny and less stuffy than the typical British whodunnits. Elton was a writer for Blackadder.
Review by julieward
16/06/2015
I Am a fan of Big Brother evern though every year I say I will not watch it,so I was really looking forward to reading this book. It did not disappoint and kept me guessing right till the end ...I had no idea "who done it" It also was very funny as always with Ben Eltons book I laughed till I cryed in some parts. I would recomend this book to anyone not just Big Brother fans
Review by reeread
16/06/2015
A murder takes place in a British Big Brother type program called "House Arrest". The remaining contenders have to choose to stay and collect big money or run the risk of being the next victim.
Review by AHS-Wolfy
16/06/2015
A satirical look at reality TV and the celebrity fame game in general via a murder mystery plot. One of the contestants in a Big Brother style game has been murdered but nobody can work out whodunnit. Seems impossible when the house is under constant monitoring by the 30 cameras and nowhere can you go unobserved. Somehow the killer has managed it and it's up to Chief Inspector Coleridge and his team to find out who and how they did it.The book starts off by introducing the cast of wannabe's from the vacuous to those that think they can outwit the production team and general public who do the voting off. You don't actually find out who the victim is until past the halfway point of the book. The story unfolds via two different viewpoints. We get to see the contestants inside the house by use of the tons of video footage collated for the investigative team to trawl through and we also get the commentary from the detectives as they search for clues and motives to the killing. The story never flags and even though I'm not a fan of Big Brother or its ilk I was thoroughly entertained by the cynical underpinning of Mr. Elton's work.
Review by jayne_charles
16/06/2015
Hilarious take on the Big Brother phenomenon. A whole bunch of typical reality-TV characters that Elton probably had a brilliant time dreaming up. There's not one you wouldn't desperately want to punch. Not to mention an absolutely top class whodunnit - even though you might guess 'who', 'how' was another matter entirely.