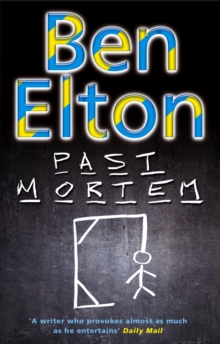 Description
With old friends like these, who needs enemies? It's a question mild mannered detective Edward Newson is forced to ask himself when, in romantic desperation, he logs on to the Friends Reunited website in search of the girlfriends of his youth.
Newson is not the only member of the Class of take back '88 who has been raking over the ashes of the past.
As his old class begins to reassemble in cyberspace, the years slip away and old feuds and passions burn hot once more.
Meanwhile, back in the present, Newson's life is no less complicated.
He is secretly in love with Natasha, his lovely but very attached sergeant, and failing comprehensively to solve a series of baffling and peculiarly gruesome murders.
A school reunion is planned and as history begins to repeat itself, the past crashes headlong into the present.
Neither will ever be the same again. In Past Mortem, Ben Elton - previous winner of The Crime Writers' Association Gold Dagger Award for Popcorn - delivers both a heart-stopping thriller and a killer comic romance.
Information
Format: Paperback
Pages: 464 pages
Publisher: Transworld Publishers Ltd
Publication Date: 01/05/2005
ISBN: 9780552771238
Free Home Delivery
on all orders
Pick up orders
from local bookshops
Reviews
Showing 1 - 5 of 10 reviews.
Previous | Next
Review by uryjm
16/06/2015
There's no doubt that this is an entertaining thriller that is easy to read, but the book also has a bitter and somewhat mean-spirited undercurrent that I always thought underpinned a lot of Elton's comedy. While most of his characters are likeable and therefore soften the impact of what is being portrayed, I think that many readers will be switched off by the key plot devices that are used to carry the story. There is also one sex scene that is almost stomach-churning in what it depicts, and will have most middle-of-the-road readers recoiling in horror at the content - but then Elton always loved to shock the middle England that he was a product of. That was in the Eighties, a time that this book constantly refers back to, and I doubt that you'll ever look at the Friends Reunited website in the same light after reading this. School bullying, mental cruelty and the inability to escape the past are the themes that weave through the novel, and if you have a liking for violent crime thrillers you'll not be disappointed with Past Mortem.
Review by zerraweth
16/06/2015
Very clever, quite funny in parts and gripping.
Review by Goldengrove
16/06/2015
This is a clever book, and the plot is gripping. But. I was disappointed when the murderer was revealed, as I had guessed who it would be, and I don't think he needed to try to shock quite so hard - it would have been just as good a story without the graphic and nasty sex. Left me feeling rather nasty. Therefore, only 3 stars - average - although the plot and grip-factor deserve more.
Review by _doodle
16/06/2015
Really enjoyed this book as I do most Ben Eltons as easy, disposable reading. Good, classic British humour as to be expected from Elton and an enjoyable murder mystery, despite the sometimes disturbing nature of the murders and the theme of bullying throughout. I didn't see the ending coming and the interactions between the main characters and the relationship between the past and present made it an intersting, recommendable read.
Review by AHS-Wolfy
16/06/2015
Detective Inspector Edward Newson has been friendzoned by his rather attractive sergeant, Natasha Wilkie, and has to settle for covert glimpses of her shapely legs and hope she doesn't notice. Natasha's taste in men seem to run to the typical bad boy type and being a 5'4" ginger and all-round nice guy, Ed feels his chances are pretty close to zero for elevating that status. While investigating their newest case, a pretty grisly murder of a brute of a man, Ed is feeling a bit lonely so decides to look into his past and see how his old schoolmates are doing in the hope of reconnecting with the class queen, Christine Copperfield, whom he spent one glorious week with back in the class of '88. He manages to reconnect with a couple of people via the Friends Reunited website and creates a profile there for himself. Not long after he does there are a few more that join up too and one of those is Christine and it seems she want to organise a class reunion. Dare Ed get his hopes up for something more?Meanwhile, back on the investigation, it seems like a few more cases have turned up that might relate to the one Ed & Natasha are working on but there's not too many clues as to the identity of the killer. Can they solve the mystery before another victim turns up dead? How will his burgeoning social life and interest in the past affect Ed's investigating technique?Not really a laugh out loud comedy offering from Mr. Elton this time around, as this one is more of a social commentary, though there are genuine moments of mirth especially in the exchanges between Ed and Natasha. The mystery element isn't that hard to figure out but there are a couple of twists to throw the reader off the scent. Those of delicate sensibilities should give this one a miss as the murders are not for the faint-hearted and there is one particularly sordid and gratuitous sex scene described quite vividly. Personally though, I did enjoy this book and I do like the author more as a writer than I ever did as a comedian.