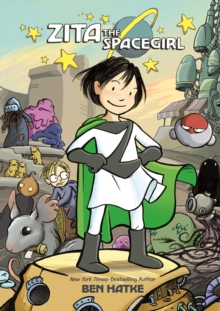 Zita the Spacegirl
Paperback
Description
A NEW YORK TIMES BESTSELLER Zita's life took a cosmic left turn in the blink of an eye. When her best friend is abducted by an alien doomsday cult, Zita leaps to the rescue and finds herself a stranger on a strange planet.
Humanoid chickens and neurotic robots are shocking enough as new experiences go, but Zita is even more surprised to find herself taking on the role of intergalactic hero.
Before long, aliens in all shapes and sizes don't even phase her.
Neither do ancient prophecies, doomed planets, or even a friendly con man who takes a mysterious interest in Zita's quest. Zita the Spacegirl is a fun, captivating tale of friendship and redemption from Flight veteran Ben Hatke.
It also has more whimsical, eye-catching, Miyazaki-esque monsters than you can shake a stick at.
Information
Format: Paperback
Pages: 192 pages, colour illustrations, black & white line drawings
Publisher: Roaring Brook Press
Publication Date: 01/02/2011
Category: Comics and Graphic Novels
ISBN: 9781596434462
Free Home Delivery
on all orders
Pick up orders
from local bookshops
Reviews
Showing 1 - 5 of 23 reviews.
Previous | Next
Review by jasonlf
16/06/2015
This is probably better than the average graphic novel for a twelve year old, was perfectly enjoyable for the short time it took to read, but not anything particularly special. About a girl who travels through space/dimensions to a world inhabited by monster-like aliens where she bands up with misfits to rescue her friend and return to her home on Earth... or at least try to.
Review by NicolLH
16/06/2015
This is my 9 year old son's favorite book, which he has now read 7 times -- and he doesn't usually reread books.
Review by Karen_D
16/06/2015
Zita the Space Girl is pure fun and I enjoyed every panel of this graphic novel! I have been reading through graphic novels lately because I can get through them quickly and with a Maymester that requires thirty-three books to get through they are my only hope of "fun" reading. Zita is a spirited girl that has to push buttons, even if they fall from the sky in a meteor rock. When she does pushes the button on the strange device that fell from the sky her best friend, Joseph, gets sucked into a vortex. Zita initially runs away but then resloves to find him and follows him into the strange world. This is where it gets fun! Zita runs into robots, a giant mouse, and a cult that thinks Joseph is the savior of their world. Tweens will enjoy this journey story and all the friends Zita makes along the way. The drawings are more cartoonish in appearance but I like my graphic novels that way. It is in color and the characters are quite expressive. Zita's resolve to find her friend is quite stunning and you rely on the panels to see how she goes from scared to determined without dialogue.I would agree with the description that it is Miyazaki-esque due to a strong heroine thrust into a fantasitical situation and must learn to deal with crazy events. However, Hatke makes his own world in such an SciFi that it does not seem as fantasy driven. I really like all the robots and strange aliens that Zita encounters along her travels in the foreign world. It actually reminded me more of Amulet by Kazu Kibuishi and would be a great go to collection for tweens who want more graphic novels like this one.This is a first book in a series and I hope Hatke draws the next book quickly!
Review by mal2012
16/06/2015
ZIta is transported to an alien planet where she hopes to save her friend. Once there she has to flee angry robots and find away to save everyone before the planet is destroyed by an ateroid.
Review by alexcirasuolo
16/06/2015
This is a fast moving book! It is a fantastic read!! The female heroine - Zita is terrific! The illustrations are detailed.