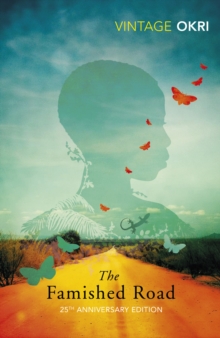 The Famished Road
Paperback
Description
WINNER OF THE BOOKER PRIZE. 1991. So long as we are alive, so long as we feel, so long as we love, everything in us is an energy we can use.
He is born into a world of poverty, ignorance and injustice, but Azaro awakens with a smile on his face.
Despite belonging to a spirit world made of enchantment, where there is no suffering, Azaro chooses to stay in the land of the Living: to feel it, endure it, know it and love it.
This is his story.
Information
Format: Paperback
Pages: 592 pages
Publisher: Vintage Publishing
Publication Date: 06/02/1992
ISBN: 9780099929307
Free Home Delivery
on all orders
Pick up orders
from local bookshops
Reviews
Showing 1 - 4 of 4 reviews.
Review by dylanwolf
16/06/2015
Lead me not to Madame Koto's nor pass me a bowl of peppered goat-soup. This middle-class white anglo wouldn't survive a week of the deprivations described here. An incredible novel and worthy Booker winner from African novelist Ben Okri. By a disorientating mixture of real events and magical hallucinations spirit-child Azaro chronicles the happenings in poverty-stricken rural Nigeria. If you've not read it then you must.
Review by cestovatela
16/06/2015
Azaro, the narrator of the The Famished Road is a spirit child born unwillingly into the human world and haunted by ghosts from the spirit world until he dies and returns to it. Weaving between Azaro's spirit-inspired visions and the daily struggle of his impoverished family, the book creates a complex but ultimately hopeful vision of Africa's future. Azaro himself is a symbol of Africa -- aimless, ambiguous, chronically wandering, and imbued with the power for both good and evil. Each of the characters, the parties they attend and even the objects in their humble homes symbolize some aspect of the African experience; readers not in the mood to analyze that level of symbolism may find themselves lost or bored. This is a beautifully written book, told in honest and complex terms, but not something to pick up if you're looking for light reading.
Review by questbird
16/06/2015
Fiction. Strange and magical story of spirit child Azaro and the mundane and supernatural elements of his childhood.
Review by edgeworth
16/06/2015
Winner of the 1991 Booker prize, The Famished Road is a Nigerian novel detailing the childhood of a boy named Azaro, a "spirit child" who lives amongst ordinary people while also seeing the fantastic world of African spirits.Okri is a poet as well as a writer, and it shows. Despite running for 500 pages The Famished Road is effectively plotless. Azaro lives with his parents in a compound on the outskirts of an unnamed city, seeing spirits, having dreams, and so forth. There's a lot of crazy visions and supposedly inspiring revelations, but not a lot happens. It's mostly meandering magical realism.I can appreciate the skill. I can appreciate the objective quality. There are some passages in here which are quite beautiful. But by God this book was a slog – a long, hard, painful, counting-down-the-pages-left slog. I'm sure there are many readers who enjoy this kind of novel, and I can see why it won the Booker, but it was absolutely not for me.