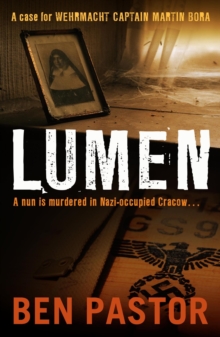 Description
Equal parts wartime political intrigue, detective story, psychological thriller and religious mystery, Pastor's debut follows a German army captain and a Chicago priest as they investigate the death of a nun in Nazi-occupied Poland.
Stunned by the violence of the occupation and by the ideology of his colleagues, Bora's sense of Prussian duty is tested to the breaking point.
Information
Format: Paperback
Pages: 288 pages
Publisher: Bitter Lemon Press
Publication Date: 01/01/2011
ISBN: 9781904738664
Free Home Delivery
on all orders
Pick up orders
from local bookshops
Reviews
Showing 1 - 2 of 2 reviews.
Review by bcquinnsmom
16/06/2015
Lumen is an interesting book. It is a novel of crime fiction, but the actual crimes and their solutions tend to take a back seat to the main character, Captain Martin Bora of the Wehrmacht Intelligence division. Bora is recently arrived in Cracow, just after the German army has invaded Poland, and finds himself involved in an unusual case involving the Abbess Kazimierza, a nun who supposedly has prophetic powers and who at times bears the stigmata. He had seen her before her death when he would accompany his superior officer Colonel Hofer, who went to see the Abbess on personal matters, so when she is killed, Bora is assigned to look into the case. He is assisted in his work by Father John Malecki, an American priest who has been assigned by the Vatican to investigate claims of her mystical abilities, and then later to examine the circumstances of her death. Bora is young, still in his 20s, newly married, and has left his wife behind in Germany. But his investigative prowess does not actually take center stage in this novel -- although he's quite good at what he does -- it is his gradual awareness of growing doubts about a cause that supports mass killing, cover ups, racial superiority and the deaths of innocent people which make Bora stand out as a character. He's a scrupulous person whose sense of duty doesn't necessarily extend over the full range of Nazi ideology and practices, and his own moral compass makes him a target for potential enemies in the SD (the Sicherheitsdienst -- Security Service), who were responsible for overseeing and carrying out many of the atrocities perpetrated against the Polish people. And there's no room in the Wehrmacht for a "young captain with scruples," according to his commanding officer Colonel Schenck: "If you start feeling sorry so early on, Bora, you're screwed. What should you care? We have our orders and the SD have theirs. It was only an accident that you didn't have similar orders. And these Polack farmers -- they aren't even people, they're not even worth reproducing. I can see you're perturbed, but believe me, don't start caring...We're all in it. If it's guilt, we're all guilty. This is the way that it is. "Scenes change quickly in this novel, and the action is offered up from different perspectives throughout the story. The investigation into the death of the Abbess lasts from beginning to end, while other mysteries crop up in the meantime adding to the crime elements of the novel. At the same time, it's a solid piece of historical fiction, examining the psyche of a man who finds himself in a situation where normal laws don't apply and the world seems to have gone crazy. There are, believe it or not, bits and pieces of humor in spots, but overall, given the circumstances, there's little to smile about during this time. Pastor's novel is no lightweight thriller; she's written a much edgier story of a dark time in history.Definitely recommended. Lumen is supposed to be the first in a series of books about Martin Bora, so I'll look forward to the second.
Review by janerawoof
16/06/2015
Ostensibly a mystery, the murder of a saintly Polish abbess. But the main thrust of the book is the character study of the protagonist, Captain Martin Bora of the Intelligence Division of the Wehrmacht. He is asked to investigate the murder. Often, the man is torn between his Prussian devotion to duty and when his orders become too brutal, his innate humanity.
Also in the Martin Bora series | View all