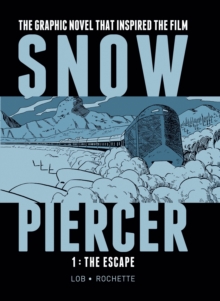 Snowpiercer : Vol 1 - The Escape
Hardback
Description
"Coursing through an eternal winter, on an icy track wrapped around the frozen planet Earth, a train travels unceasingly through the eternal winter.
This is Snowpiercer: one thousand and one carriages long.
Discover - for the first time in English - the gripping and groundbreaking graphic novels that inspired the stunning new movie from director Joon-ho Bong". (The Host).
Information
Format: Hardback
Pages: 112 pages, illustrations
Publisher: Titan Books Ltd
Publication Date: 28/01/2014
Category: Comics and Graphic Novels
ISBN: 9781782761334
Free Home Delivery
on all orders
Pick up orders
from local bookshops
Reviews
Showing 1 - 5 of 5 reviews.
Review by dougcornelius
16/06/2015
A bleak dystopian future. Humanity only survives on a train with 1001 cars. The well off are at the front of the train. At the rear are the after thought rabble that were hooked onto the train at the last minute.
Review by ivan.frade
27/08/2015
In a near future Earth is frozen and the last survivors from humanity live in a train that travels endlessly through the snow. Inside the train the society has been reorganized although not exactly in an utopia.The setting is fascinating and full of possibilities. It could have talked very easily about any relevant topic: social problems, environment issues... almost anything, but incredibly it manages to miss each and every one of them. The comic just throws a bland unoriginal inconsistent plot. It hurts to see wasted so many good hooks to develop something great.
Review by vpfluke
27/08/2015
This is a dystopic graphic novel, where the final inhbitatns of earth inhabit a 1001 car train. There is much social distinction between the various people on the train. Perceived slights are numerous and cause anger and dissension. Besdies an affluent upper clss there is a hidden technical class which makes the train go.
Review by clark.hallman
16/06/2015
Snowpiercer 1: The Escape by Jacques Lob and Jean-Marc Rochette (2013) – A mighty locomotive hauls, 1001 carriages crammed with what is left of humanity on a non-stop, never-ending journey to nowhere on a frozen Earth that can no longer support life. Of course the society of the perpetual travelers is stratified, with elites enjoying many amenities near the locomotive and horrible deadly conditions toward the rear. A refugee from the rear, Proloff, escapes the tail of the train and fights to reach the engine along with Adeline. However, it is a ruthless society even near the front of the train. This is a very creative and fascinating graphic novel with revealing illustrations and a well-written story. I look forward to reading Snowpiercer 2: The Explorers. This graphic novel also spawned a movie, Snowpiercer, that is scheduled for DVD release in October 2014.
Review by MikeRhode
16/06/2015
This is a typical French science fiction dystopian comics story, that could easily have appeared in Metal Hurlant. It's not deep, but it's not meant to be either.
Also by Benjamin Legrand