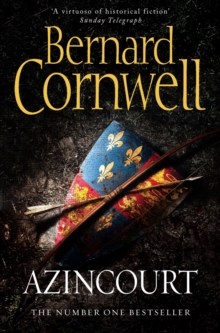 Description
An extraordinary and dramatic depiction of the legendary battle of Agincourt from the number one historical novelistAzincourt, fought on October 25th 1415, St Crispin's Day, is one of England's best-known battles, in part through the brilliant depiction of it in Shakespeare's Henry V, in part because it was a brilliant and unexpected English victory and in part because it was the first battle won by the use of the longbow - a weapon developed by the English which enabled them to dominate the European battlefields for the rest of the century.Bernard Cornwell's Azincourt is a vivid, breathtaking and meticulously well-researched account of this momentous battle and its aftermath.
From the varying viewpoints of nobles, peasants, archers, and horsemen, Azincourt skilfully brings to life the hours of relentless fighting, the desperation of an army crippled by disease and the exceptional bravery of the English soldiers.
Information
Format: Paperback
Pages: 542 pages
Publisher: HarperCollins Publishers
Publication Date: 01/06/2009
Category: Historical fiction
ISBN: 9780007271221
Other Formats
eAudiobook MP3 from £6.79
EPUB from £4.99
Free Home Delivery
on all orders
Pick up orders
from local bookshops
Reviews
Showing 1 - 4 of 4 reviews.
Review by Chariton
16/06/2015
Cornwell has done it again. Well researched, captivatingly told, and beautifully spun into a tale of one yeoman archer in king Henry's army.
Review by briandarvell
16/06/2015
My first time reading something by Bernhard Cornwell. For anyone who enjoys a good middle-ages style of historical fiction this book would be perfect. It had lots of action and decent character development. It turned out to be a real quick and fun read. I will definitely read another Cornwell novel in the future.
Review by fothpaul
16/06/2015
The first of Bernard Cornwell's books I have read. I enjoyed it quite a lot. Haven't really read much historical fiction but this is certianly my cup of tea and I'll be looking into more of these books. The build up to the final battle was good and I felt that the author conveyed the sense of being an archer in a medieval army very well.Sometimes the story felt a little clumsy and predictable, the inevitable attempt of the dodgy priest on Hook's wife and the battle between John Cornwailles and Lanferrelle, but these didn't cause me too much grief.
Review by PhilSyphe
27/08/2015
"Azincourt" is quick-paced and not for the faint hearted. This author is in my opinion second only to Robert E. Howard when it comes to depicting vivid battle scenes. Mr Cornwell never shies away from depicting the horrors of war, conveying every gruesome detail of the dead or dying. There's an emphasis on the horror of cutting out/stabbing men's eyes in this tale.I liked most of the characters, though Hook – the hero of the piece – seemed lacking somehow. Sir John, one of the other main characters, was perhaps the best-drawn, while Martin the evil priest made an effective villain. The historical side of things was well-researched. I would've rated this novel four stars but, like all the Bernard Cornwell books that I've read to date, I've deducted a star because the story is let down by substandard elements of style. Long-winded sentences, adverbs, and adjectives are plentiful. The needless dialogue attribution drives me to distraction whilst the overuse of the word "then" is surprising for such a seasoned author.The long-winded sentences are kept going by numerous commas plus "ands", often aided by a "then", like with the quote below:>Will of the Dale put a bodkin into a rider's throat and the man jerked back under the arrow's strike, then rebounded forward from his saddle's high cantle and his lance buried its point in a furrow and so lifted the man out of his saddle as his horse galloped on, eyes white and visible through the holes in its face armour, and the man was dragged along by the stirrup as the horse took an arrow in the eye and veered to one side and so brought down two more horses.<The above mammoth sentence could easily be cut down to at least four concise sentences. It would have more impact with those commas removed and by replacing conjunctions with full stops. To this reader at least the above is like listening to a hyperactive child. There are many of this type of sentence all the way through the novel.I sometimes wonder if Mr Cornwell gets paid per word. If his works were thoroughly copy-edited they would be all 50-100 pages shorter. The story would remain the same but the reading experience would be much smoother. The reader does not want poor style to distract them from a good story. The best authors avoid using "then" wherever possible. The amount used in this tome is cringe-worthy. It is achievable to write a long novel without using this word at all, except maybe in dialogue, but in the main narrative it sounds like a child's voice. For example, the following quote shows the pointlessness of inserting "then", plus the needless use of excess commas and conjunctions:> It was one horse, Hook thought, judging from the sound, and then, suddenly, the horse and its rider were visible, riding eastward.<Surely something like this would've conveyed the same meaning in a less-clunky style:> Judging from the sound Hook thought it was one horse. Suddenly the horse and its rider were visible, riding eastward.<What really makes me groan when I read Mr Cornwell's books is the dialogue attribution. The two main annoyances are the repetition of informing the reader who's talking when it's obvious which character it is, plus the invariable inclusion of attribution after the first few words. This is like trying to listen to someone talk whilst another person keeps interrupting. This quote shows the last point made above:>We're three ranks deep," Sir John said, "and they're at least twenty ranks deep.<No need at all to insert "Sir John said". The reader knows who's speaking. All this does is disrupt the sentence flow. The quote below is similar whilst also wasting words:>"So what's going to happen here?" Michael wanted to know.< The reader can't fail to know who's speaking in this two-character exchange. "Michael said" would've been pointless enough but "Michael wanted to know" is a complete waste of words. He's asked a question, thus it's obvious that he wants to know something. Even if the reader did need to know who was speaking here the author would be using four words instead of two. As it happens, he's using four instead of none. These are simple rules of style that are being ignored.I sometimes wonder why I keep reader this author's works. Truth is, despite the poor English style, his historical knowledge and ability to tell a story are superb. He's brilliant at creating dramatic scenes and tense conflict, which are spoiled only by the issues already mentioned. If he's writing about a period or situation that interests me I'll check it out. If he picks something I'm only half interested in, however, I won't go near it because of the distracting elements of style.