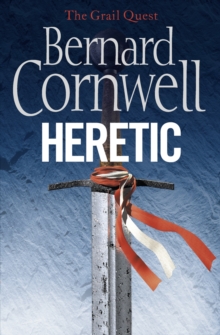 Description
The eagerly anticipated follow-up to the number one bestseller Vagabond, this is the third instalment in Bernard Cornwell's GRAIL QUEST series, in a bright and bold repackage.It is 1347.
The Hundred Years War has been suspended. The truce releases English archer Thomas of Hookton to pursue his arch enemy and resume his quest for the most prized relic in Christendom: the Holy Grail.
Heading south, Thomas and his men-at-arms begin lightning raids to draw out his enemy.But fate takes an unexpected hand when the plague strikes.
What had been a landscape of castles, monasteries, vineyards and villages becomes death's kingdom and the need for the grail, as a sign of God's favour, is more urgent than ever.
Information
Format: Paperback
Pages: 448 pages
Publisher: HarperCollins Publishers
Publication Date: 01/05/2009
Category: Historical fiction
ISBN: 9780007310326
Free Home Delivery
on all orders
Pick up orders
from local bookshops
Reviews
Showing 1 - 1 of 1 reviews.
Review by PhilSyphe
27/08/2015
"Heretic" struck me as very different to the first two books in the Grail series. A couple of episodes did draw me in but on the whole I found it lacking. I do like the main character – Thomas – but missed his Jewish friend who has a passion for checking the colour of people's urine, plus Thomas's one-time lover Jeanette, neither of which appear at all in this volume. I would've rated this novel three stars but, like all the Bernard Cornwell books that I've read to date, I've deducted a star because they are all let down by substandard elements of style. Long-winded sentences are plentiful. The needless dialogue attribution drives me to distraction whilst the overuse of the word "then" is surprising for such a seasoned author.This, of all the books I've *ever* read, may well hold the record of overusing the word "then". Sometimes it's in consecutive sentences. Occasionally it's used twice in the same sentence. The best authors avoid using "then" wherever possible. It is achievable to write a long novel without using this word at all, except maybe in dialogue, but in the main narrative it sounds like a child's voice. Think of a seven-year-old telling you about their holiday: "And then I did this, and then I did that, and then …'Take this for example:>Then the routiers would take a new oath, go to war and fight until a truce was called, and then, knowing no trade except killing, they would go back to the lonelier stretches of countryside and find a town to savage.<To start a sentence with "then" or "and then" is particularly bad form. First, it's obvious that the above info happens next. Second, if one was to remove the childish opening and adjust the syntax to eliminate some of the commas and superfluous conjunctions a stronger sentence will be revealed:>The routiers would take a new oath. They'd go to war until a truce was called. Knowing no trade except killing, they'd return to the lonelier stretches of countryside and find a town to savage.<Notice how we have the same info but in fewer words.I sometimes wonder if Mr Cornwell gets paid per word. If his works were thoroughly copy-edited they'd be all about 50 pages shorter. The story would remain the same but the reading experience would be much smoother.This is a typical long-winded sentence, kept going by numerous conjunctions, punctuation, plus this one has a "then" for good measure:>The valley where that poor village lay had already been plundered, and so he meant to stop in the next valley where a slew of plump settlements were strung along the road south from Masseube, and then, when his men were busy about their devil's business, he and a few men would ride with Robbie to the hills overlooking Astarac and, if there were no coredors or other enemies in sight, let the Scotsman ride on alone.<The above mammoth sentence could easily be cut down to three or four more concise sentences. It would have more impact if some of those commas and conjunctions were replaced with full stops. To this reader at least the above is like listening to a hyperactive child. There are many of this type of sentence all the way through the novel.What really makes me groan most of all when reading Mr Cornwell's books is the dialogue attribution. The two main annoyances are the repetition of informing the reader who's talking when it's obvious which character it is, plus the invariable inclusion of attribution after the first few words. This is like trying to listen to someone talk whilst another person keeps interrupting. This quote shows the last point made above:>'I was reminded the other day,' he said, 'of one of the psalms of David.'<No need at all to insert "he said". It only disrupts the sentence flow. The quote below is extremely stupid:>'I am Galat Lorret,' Lorret said.<It's as though the author thinks his readers are stupid. This isn't a Spartacus scenario. Nobody in the scene needed to step forward and claim to be Galat Lorret. Why insult our intelligence by adding the pointless attribution?Another recurring irritation in this author's works are his telling the reader that a character is dressed all in black, only to follow this up by describing each garment preceded by the adjective black:>He was dressed all in black. Black boots, black breeches, black jerkin, black cloak, black broad-brimmed hat and a sword scabbard sheathed in black cloth.<I've lost count of how many times Mr Cornwell has done this in his novels. In fact, I was part-listening to this from an audio recording, and guessed the moment the narrator said, "He was dressed all in black", that he'd go on to describe each article as being black. I shook my head at this childish way of writing. You may expect to read this sort of thing in a book for under ten-year-olds, but not in one written by a seasoned author.Apart from the overuse of adjectives – something else this author is guilty of, along with using too many adverbs – it's also a waste of words in general. Had Mr Cornwell attended creative writing classes at university level and studied the art of English style he'd know that every word in fiction should matter. His historical accuracy is always commendable. If only he'd spend half as much effort on his use of style. Clearly this doesn't bother the majority of readers who give him five-star ratings, but to me story and style should complement each other. If the style's not up to standard, I'm left distracted by it, unable to be drawn into the story. I sometimes wonder why I keep reader this author's works. Truth is, despite the poor English style, his historical knowledge and ability to tell a story are superb. If he's writing about a period or situation that interests me I'll check it out. If he picks something I'm only half interested in, however, I won't go near it because of the distracting elements of style. I would've given up on this one after the thirtieth use of "then" had I only been reading this in PDF format instead of additionally listening to it in audio format.