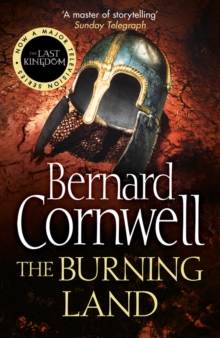 The Burning Land
Paperback
Description
The fifth novel in Bernard Cornwell's epic and bestselling series on the making of England and the fate of his great hero, Uhtred of Bebbanburg.BBC2's major Autumn 2015 TV show THE LAST KINGDOM is based on the first two books in the series.To King Alfred he is the `lord of battles'.
He has gained riches, loyal men and a beloved wife. But Uhtred is dogged by betrayal and tragedy.The ailing Alfred presses Uhtred to swear loyalty to his son and heir Edward, preventing the warrior lord from taking vengeance on those who stole his home at Bebbanburg.
Now Uthred will once again defend the Christian kingdom - in a battle which could smash the growing power of the deadly Danes.In so doing he meets a woman more dangerous than any warlord.
A killer, a schemer with a dark power over men's hearts: Skade.Uhtred of Bebbanburg's mind is as sharp as his sword.
A thorn in the side of the priests and nobles who shape his fate, this Saxon raised by Vikings is torn between the life he loves and those he has sworn to serve.
Information
Format: Paperback
Pages: 488 pages
Publisher: HarperCollins Publishers
Publication Date: 27/05/2010
Category: Historical adventure
ISBN: 9780007219766
Other Formats
CD-Audio from £16.35
EPUB from £1.99
Free Home Delivery
on all orders
Pick up orders
from local bookshops
Reviews
Showing 1 - 2 of 2 reviews.
Review by john257hopper
16/06/2015
The Burning LandFifth novel in this series. Like the others, this is a good page turner, but Uhtred remains, for me, as unsympathetic as ever. It is odd that an author who clearly, to judge by his historical afterword, and rightly in my view, regards Alfred as truly deserving the title "the Great", continues to portray the King is such an unsympathetic light. His son, the future King Edward the Elder, is treated in the same way, though Uhtred's opinion of the Aetheling is improving by the end of the novel after the Vikings are defeated at Benfleet. As in earlier novels, the relentless slaughter is described graphically and is a little wearisome.
Review by PhilSyphe
16/06/2015
This fifth instalment of the Saxon Stories is set during the early 890s when Alfred the Great is ailing yet is still the most powerful man in the divided England that he hopes to unite.As usual, the tale is narrated by the anti-hero of the piece, Lord Uhtred, who is a Saxon warrior with a liking for his countrymen's enemies, the Danes. At one time or another he has fought on both sides, as he does is this tale, though he's predominantly – and unwilling – on the Saxon side in this episode.By now Uhtred is in his mid-thirties with a renowned reputation as a great warlord. He is a pagan but is also good friends with three Christian priests. His conversation with them is often amusing, as are his confrontations with priests who he doesn't get along so well with.Uhtred is also a man who honours his pledged oaths. This leads to him leading more great battles against the Danes, first on behalf of King Alfred – who he doesn't like – and lastly on behalf of Alfred's daughter Æthelflæd – who he likes well.As always, Bernard Cornwell's depictions of battle scenes are vivid and believable. This is one of the author's greatest talents. Confrontation of all varieties, be it physical or verbal, is expertly portrayed. The characterization and plotting are also superb.The thing that, in my view, prevents Mr Cornwell from being an even better writer than he is – and he's one of my favourites – is his dialogue attribution. The actual dialogue is excellent, but for 90+ per cent of the time he interrupts the flow by needlessly reminding the reader who's speaking, more often than not inserting this pointless information (pointless because it's obvious who's speaking) in the middle of sentences, as the following excerpt shows:"He's only doing it," Æthelflæd said, "so my father doesn't attack him.""He's a weasel's earsling," I said."He wants East Anglia," she said. "Eohric's a weak king and Haesten would like his crown.""Maybe," I said dubiously, "but he'd prefer Wessex."The reader knows whether it's Uhtred or Æthelflæd speaking, not only because there are no other characters taking part in the conversation, but also because these are two strong characters. Mr Cornwell maybe does not realise that the strength of his characters make it clear to the reader who's talking, just as he fails to grasp how irritating is to have his well-written dialogue swamped with superfluous attribution.This is the best example of needless dialogue attribution, plus it's the stupidest line in the book: "I am Ragnar Ragnarson," Ragnar said.Anyway, apart from this pet hate of mine, this is a great read by a great author. I really like Uhtred, Alfred, Ragnar, Haesten, Æthelflæd, and most of the priests. I also like a character new to this series, namely Skade – beautiful but brutal.
Also in the The Last Kingdom Series series | View all