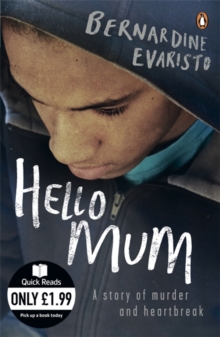 Description
It's a hot summer afternoon. Tension is in the air. A gang of youths on bikes gathers outside a chip shop.
A teenage boy is stabbed and left bleeding on the street.The boy's motherwonders how this could have happened to her son.
She is full of questions, but when the answers lie so close to home, are they really what she wants to hear?
Information
Format: Paperback
Pages: 96 pages
Publisher: Penguin Books Ltd
Publication Date: 04/03/2010
ISBN: 9780141044385
Free Home Delivery
on all orders
Pick up orders
from local bookshops
Reviews
Showing 1 - 2 of 2 reviews.
Review by TheoClarke
16/06/2015
Short sharp novella about the black teen experience of London's gang culture and drug dealing. Written in the first person by a fourteen year old boy addressing his Ghanaian mother, the tale has an immediacy that is deeply engaging.
Review by ArkhamReviews
10/11/2015
Although the story was only short (my copy was only about 80 pages), it is harder to read that I thought it would be. The book is formatted like a letter and is written entirely in the conversational tone of a fourteen year old boy from a poor area of London. Because of this, I found it a little hard to get into as it took me a couple of chapters to get used to JJ's voice.The story itself offers a bit of food for thought. It carries a strong moral message regarding how gang culture may seem glamorous to a teenager but the reality is quite different. JJ begins the book idolising Tony Montana (a nobody who made something of himself) as he dreams of getting out of his tiny flat and owning his own plasma screen TV. He sees anyone who owns designer clothing as being a success and regards his nerdy friend (who actually wants to work hard and get a decent job) as being a failure who will amount to nothing.The story was decent enough for a light read but failed to make much of an impression on me due to its length. The twist was a little easy to see coming as well as it was heavily signposted from early in the story. Additionally I struggled to like JJ. I appreciate that he was a fairly realistic portrayal of a teenage gang member but I still found it hard to sympathise with him because he wasn't an especially nice person.Probably worth a look at if you're into dark, contemporary fiction but a little forgettable on the whole.
Also in the Quick Reads series | View all