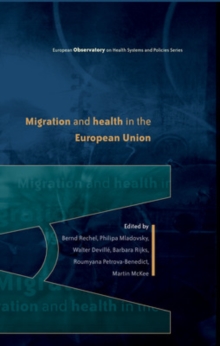 Migration and Health in the European Union
Paperback / softback
Description
"This book can be read by anyone with an interest in migration and health, whether as an advocate for migrants' health, as a student in a health profession, researcher or policy maker.
It provides an ample orientation to the field in the European context.
Among other important raised issues, it underlines an all too often neglected fact; health is a human right.
By involving broad issues and problem areas from a variety of perspectives, the volume illustrates that migration and health is a field that can not be allocated to a single discipline."Carin Bjoerngren Cuadra, Senior Lecturer, Malmoe University, SwedenMigrants make up a growing share of European populations.
However, all too often their situation is compounded by problems with accessing health and other basic services.
There is a need for tailored health policies, but robust data on the health needs of migrants and how best these needs can be met are scarce.Written by a collaboration of authors from three key international organisations (the European Observatory on Health Systems and Policies, the EUPHA Section on Migrant and Ethnic Minority Health, and the International Organization for Migration), as well as leading researchers from across Europe, the book thoroughly explores the different aspects of migration and health in the EU and how they can be addressed by health systems.Structured into five easy-to-follow sections, the volume includes:Contributions from experts from across Europe Key topics such as: access to human rights and health care; health issues faced by migrants; and the national and European policy response so farConclusions drawn from the latest available evidenceComprehensive information on different aspects of health and migration and how they can best be addressed by health systems is still not easy to find.
This book addresses this shortfall and will be of major value to researchers, students, policy-makers and practitioners concerned with migration and health in an increasingly diverse Europe.
Free Home Delivery
on all orders
Pick up orders
from local bookshops
Also by Bernd Rechel