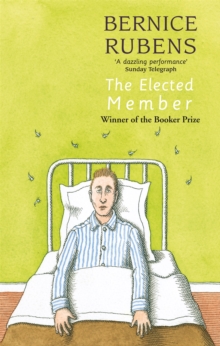 The Elected Member
Paperback
Description
Norman is the clever one of a close-knit Jewish family in the East End of London.
Infant prodigy; brilliant barrister; the apple of his parents' eyes... until at forty-one he becomes a drug addict, confined to his bedroom, at the mercy of his hallucinations and paranoia.For Norman, his committal to a mental hospital represents the ultimate act of betrayal.
For Rbbi Zweck, Norman's father, his son's deterioration is a bitter reminder of his own guilt and failure.
Only Bella, the unmarried sister, still in her childhood white ankle socks, can reach across the abyss of pain to bring father and son the elusive peace which they both desperately crave.
Information
Format: Paperback
Pages: 224 pages
Publisher: Little, Brown Book Group
Publication Date: 01/01/1988
ISBN: 9780349130224
Free Home Delivery
on all orders
Pick up orders
from local bookshops
Reviews
Showing 1 - 4 of 4 reviews.
Review by lauralkeet
16/06/2015
I didn't expect to like this 1970 Booker Prize winner. The early winners often don't age well. And the cover art is, well, goofy and amateurish. And given the novel was published on the heels of the tumultuous 1960s, I expected drug addiction -- one of the novel's main themes -- to be glorified and celebrated.I was wrong on all counts. Well, not about the cover art, because there's no arguing with that one. But the goofy artwork belied an intense novel with surprising emotional depth. Norman Zweck is a 41-year-old London barrister, struck down in his prime because of his addiction. His father, a Rabbi, makes the difficult decision to have Norman committed for treatment. But this is not the familiar addiction recovery story. Rather, it's about the complex family environment that caused both Norman's downfall and a series of interconnected traumas with his parents and siblings.Take, for example, Norman's sister Bella, who is only one year younger but still wears short white socks like a little girl, obsessively hoarding them and making sure they are folded symmetrically. Or Rabbi Zweck, a kind-hearted man who always wanted the best for his son, but behaves like an innocent bystander because he doesn't want to acknowledge reality and understand his role in making Norman who he is. Or Norman's boyhood friend David, whose impact has lasting and disastrous consequences.And then there's poor Norman, sent to a mental hospital to be treated for addiction. At first I thought that may have simply been representative of the time period, and marveled at how far we've come in understanding and curing addictions. But over time, as the real story emerged, it became clearer that Norman was both addicted and mentally ill. The ending brings some closure, but leaves many questions unanswered; overall, a poignant and very well-written novel.
Review by kidzdoc
16/06/2015
This Booker Prize winning novel about a close-knit but dysfunctional Jewish family is set in the East End of London in the 1960s. Norman Zweck, the golden son of a rabbi and his late wife, whose promising career as a barrister has been derailed by drug use and mental illness brought on by his mother's incessant demands and his personal failings, is slowly becoming unhinged — again. He spends his days in his parents' old bedroom, locked away from his father and younger sister, popping amphetamine pills in a futile attempt to keep his demons at bay. His father and younger unmarried sister Bella, who deeply love Norman but fear his ever more worrisome outbursts, work together to place him in a mental institution, in a last ditch effort to get him back to his old self.As he recuperates in the institution, the three members of the family, and Norman's estranged sister Esther, reflect on how they reached this critical point. Past actions, indiscretions, and tragic decisions haunt each of them, but none more than Norman. The Zuckers attempt to reconcile their differences once and for all, as Norman descends further into madness and as his father's health begins to fail.<i>The Elected Member</i> was a enjoyable read, filled with humor despite its tragic elements, and hope in the face of despair and crisis.
Review by Mercury57
16/06/2015
This novel started with a lot of promise – the first scenes of Norman waking up after another tortuous night believing his room is invited by silver fish, were engrossing. Even though its some weeks since I read the book I can still picture those shimmering things crawling their way from the skirting board.I liked the way Rubens let her story unfold gradually, peeling back the layers of the family to reveal some of the underlying problems and the answers to some mysteries (why does the daughter persist in wearing little white socks well into adulthood?).But the ending was disappointing – just too neatly wrapped up in some cathartic coming together of the remaining family members united at the deathbed of the patriarch and (we are led to imagine); with Norman cleansed. Hmm…And the verdict? Good in parts but not wonderful.Would I read another Bernice Rubens novel? Unlikely
Review by bodachliath
27/08/2015
Another of my sporadic attempts to read as many historic Booker Prize winners as possible - this was the second one, and is an entertaining, sympathetic but rather dark study of a close-knit Jewish family struggling with a son's mental health issues and the conflicts between religious traditions and the modern world.