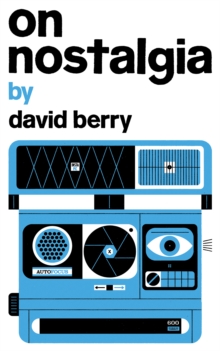 Description
From Mad Men to MAGA: how nostalgia came to be and why we are so eager to indulge it. From movies to politics, social media posts to the targeted ads between them, nostalgia is one of the most potent forces of our era.
On Nostalgia is a panoramic cultural history of nostalgia, exploring how a force that started as a psychological diagnosis of soldiers fighting far from home has come become a quintessentially modern condition.
Drawing on everything from the modern science of memory to the romantic ideals of advertising, and traversing cultural movements from futurism to fascism to Facebook, cultural critic David Berry examines how the relentless search for self and overwhelming presence of mass media stokes the fires of nostalgia, making it as inescapable as it is hard to pin down.
Holding fast against the pull of the past while trying to understand what makes the fundamental impossibility of return so appealing, On Nostalgia explores what it means to remember, how the universal yearning is used by us and against us, and it considers a future where the past is more readily available and easier to lose track of than ever before. "Berry's subject is a wide-ranging one, but he pulls off the impressive feat of covering plenty of ground in a concise and compelling manner." -Tobias Carroll, Literary Hub
Information
Format: Paperback / softback
Pages: 140 pages, No
Publisher: Coach House Books
Publication Date: 23/07/2020
Category: Literary studies: general
ISBN: 9781552454060