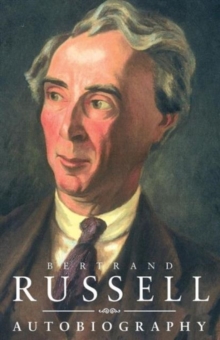 The Autobiography of Bertrand Russell
Paperback
Description
Bertrand Russell was born in 1872 and died in 1970.
One of the most influential figures of the twentieth century, he transformed philosophy and can lay claim to being one of the greatest philosophers of all time.
He was a Nobel Prize winner for Literature and was imprisoned several times as a result of his pacifism.
His views on religion, education, sex, politics and many other topics, made him one of the most read and revered writers of the age.
This, his autobiography, is one of the most compelling and vivid ever written. This one-volume, compact paperback edition contains an introduction by the politician and scholar, Michael Foot, which explores the status of this classic nearly 30 years after the publication of the final volume.
Information
Format: Paperback
Pages: 760 pages
Publisher: Taylor & Francis Ltd
Publication Date: 10/03/2000
Category: Autobiography: general
ISBN: 9780415228626
Other Formats
Hardback from £70.15
EPUB from £21.59
PDF from £21.59
Free Home Delivery
on all orders
Pick up orders
from local bookshops
Reviews
Showing 1 - 1 of 1 reviews.
Review by ecw0647
16/06/2015
The Founding Fathers obviously placed a high value on happiness or they wouldn't have insisted on pursuit of it as a basic right in a major American document. Bertrand Russell, who already as an adolescent was trying to reconcile the meaning of life and the role of reason, adopted a Millian (if that's a word) premise to "act in a manner. . . to be most likely to produce the greatest happiness, considering both the intensity of the happiness and the number of people made happy." In The Autobiography of Bertrand Russell, volume I, Conscience, he argued, was too dependent upon education, a product a evolution and education, and therefore "it is an absurdity to follow that rather than reason." The inherited part "can only be principles leading to the preservation of the species" and the education part of conscience is derived from the same imparted wisdom that "made Bloody Mary burn the Protestants." Russell was good friends with Alfred Whitehead who was a teacher and mentor to him, although in later years to parted on aspects of their philosophies. He perceived Whitehead as having the qualities of a perfect teacher: "He took a interest in those with whom he had to deal and knew both their strong and weak points. He would elicit from a pupil the best of which a pupil was capable. He was never repressive, or sarcastic or any of those things that inferior teachers like to be. I think that in all the abler young men with whom he came in contact, he inspired, as he did in me, a very real and lasting affection." <br/><br/>Russell's comments about people he met and his friends were amusingly perspicacious. "My impression of the old families of Philadelphia Quakers was that they had all the effeteness of a small aristocracy. Old misers of ninety would sit brooding over their hoard while their children of sixty or seventy waited for their death with what patience they could command. Various forms of mental disorder appeared common. Those who must be accounted sane were apt to be very stupid." <br/><br/>It was while in the midst of writing his great Principia Mathematica that he had a revelation that was to alter his life. Alfred Whitehead's wife was in severe pain from a heart condition and while attending to her he came to the following reflections: "the loneliness of the human soul in unendurable; nothing can penetrate it except the highest intensity of the sort that religious teachers have preached; whatever does not spring from this motive is harmful, or at best war is wrong, that a public school [the English public school is the equivalent of an American private school:] is abominable, that the use of force is to be deprecated, and that in relations one should penetrate to the core of loneliness in each person and speak to that. . . . cared only for exactness and analysis, I found myself filled with semi-mystical feelings about beauty, with an intense interest in children, and with some desire almost as profound as that of the Buddha to find some philosophy which should make life endurable."