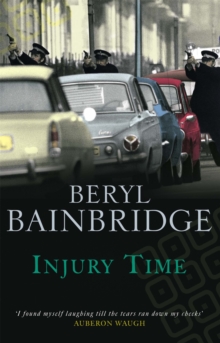 Description
Edward is throwing a dinner party with Binny , his mistress.
Aware that she has long been denied those small intimacies that his wife takes for granted - choosing a birthday present for his sister, for example, or sorting his socks - he wants to give her a chance to feel more involved in his life, to socialise with some of his friends (the discreet ones).
Things are a little awkward to begin with - a late start and him having to be away by half past ten - but everything seems to be going well. But then some uninvited, and reather forceful guests arrive, and it doesn't look like Edward is going to make it home on time.
Information
Format: Paperback
Pages: 224 pages
Publisher: Little, Brown Book Group
Publication Date: 02/10/2003
ISBN: 9780349116112
Free Home Delivery
on all orders
Pick up orders
from local bookshops
Reviews
Showing 1 - 1 of 1 reviews.
Review by gaskella
16/06/2015
Dinner parties… Love 'em, loathe 'em – but from the mid 1970s to perhaps as far as the late 1990s they were a symbol of the middle classes. The kitchen-sink drama moved into the Dining Room. Acceptance of your position in the hierarchy by giving dinner parties was soon replaced by competitive hosting – the archetypal example of which is Beverley in' Abigail's Party'. We tend towards more informality these days, which is a relief to me, but somewhere people are still probably having dinner parties and practising oneupmanship today!…Bainbridge's 1977 novel, from the middle of her output, Injury Time is at heart, a tale of adultery and an exquisitely ghastly comedy of manners. It is also, to use a footballing phrase that matches its title, a game of two halves – both of which go into injury time.The first half kicks off with us meeting Edward and Binny, he a moderately successful accountant and she, his mistress. Binny is not a typical mistress though, she has three children for a start, and lives in a rather run-down area of North London. Edward is stuck in a stifling marriage with Helen, he's plump and grows roses. They make an odd pair."In the beginning he had fallen in love with her because she advised him they must live each day as if it were their last: bearing in mind that any moment the final whistle could blow, it was pointless to spoil the time they had left with the making of impossible demands. 'You don't want to leave your wife,' she'd said. 'And I don't want you to.' But as the months passed and she made various disparaging remarks about married men and their duplicity, it occurred to him that possibly this was precisely what she required of him. It made him very uncomfortable."However, Edward does give in to her request to meet some of his colleagues, and chooses Simpson and his wife to invite to a dinner party at Binny's house. It's the day of the meal, and Binny needs to get ready, and she's having problems getting rid of the children, bolshy teen Lucy, and little Alison, who thinks she's a dog."Binny could feel a pulse beating in her throat. She burned with fury. No wonder she never put on an ounce of weight. The daily aggravation the children caused her was probably comparable to a five-mile run or an hour with the skipping rope."Eventually the children are sorted out and dispatched to friends and neighbours. Edward arrives followed by Simpson and his wife Muriel who seems nice, although proper, and rather an unknown quantity. Simpson, of course, has a mistress too, and keeps trying to think of an excuse to pop out to the phone box."One day, thought Edward gloomily, Simpson was going to be caught out. They were all going to be caught out – Simpson, himself, those other foolish men drinking in public houses, jingling the loose change in their pockets and boasting of affairs. It was astonishing how fashionable it was to be unfaithful."So far, the evening's going fairly well, but things get interrupted by Binny's friend Alma who turns up drunk, and promptly throws up all over the place. End of the first half.As you might guess from the cover above, there is something else to come in the second half. By sheer chance, Binny and her guests, find themselves taken hostage by some bank robbers who pick her door to burst in through. I won't say any more about the seige and what happens next. Whereas before, the novel was broadly comedic concerning: men and mistresses, all the pressures on the hostess of a dinner party, stilted conversation around the table, it now becomes dangerous – very dark, yet still the same – which makes it funny indeed, although there is much underlying sadness.In all the gritty Bainbridge dramas I've read so far, many of the characters are damaged in some way, particularly the women. Here, when faced with adversity, Edward and Simpson revert back to being children, becoming objects of pity, while the women actually display some resilience. I didn't enjoy the siege half as much as the dinner party, but this was another fine and taut novel that has a lot to say about social mores of the time. It won the Whitbread Prize for best novel in 1977.