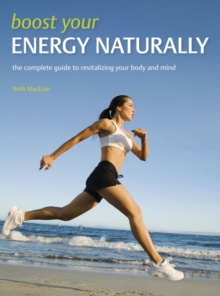 Boost Your Energy Naturally
Paperback / softback
Description
"Boost Your Energy Naturally" enables you to identify what's draining your energy and help you reclaim your zest for life.
Discover the benefits of complementary therapies such as acupuncture, homeopathy, herbalism and ayurveda.
Work out when you are at your most vital and why. Learn how to combat negative thought processes, stress and poor sleep patterns that can adversely affect all areas of your life.
A chapter on nutrition offers a specially devised eating-for-energy plan, while another illustrates the benefits of exercise and offers simple breathing techniques for maximizing oxygen intake.
The book also shows you how to tap into universal energy fields to enhance the flow of creative and sensual energy.
There are also techniques for balancing your energy and banishing the four main energy enemies - depression, anxiety, lack of confidence and guilt - and a simple ten-step plan to positive thinking. "Boost Your Energy Naturally" provides practical advice and techniques for getting your 'get up and go' back on track as quickly and easily as possible and revitalizing your mind and body so you can live your life to the full.
Information
Format: Paperback / softback
Pages: 128 pages, approx. 120 colour photographs
Publisher: Welbeck Publishing Group
Publication Date: 08/12/2011
Category: Fitness & diet
ISBN: 9781847324948