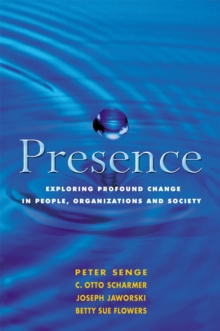 Presence : Exploring Profound Change in People, Organizations and Society
Paperback
Description
Presence: Exploring Profound Change in People, Organisations and Society gives the reader an intimate look at the development of a new theory about change and learning.
In wide-ranging conversations held over a year and a half, Senge, Scharmer, Jaworski and Flowers explore their own experiences and those of one hundred and fifty scientists and social and business entrepreneurs in an effort to explain how profound collective change occurs.Their journey of discovery articulates a new way of seeing the world, and of understanding our part in creating it - as it is and as it might be.
Radical and hopeful - Presence synthesises leading-edge thinking, first-hand knowledge and ancient wisdom to explore the living fields that connect us to one another, to life more broadly, and, potentially, to what is 'seeking to emerge'.
Seven capacities underlie out ability to see, sense, and realise new possibilities.
Developing these capacities accesses a deeper level of learning that is the key to creating change that serves the whole - ourselves, our organisations, and the communities of which we are a part.
Free Home Delivery
on all orders
Pick up orders
from local bookshops
Reviews
Showing 1 - 1 of 1 reviews.
Review by fist
16/06/2015
For a rational lover of non-fiction by Dawkins, Diamond and the like, reading this book caused a lot of aggravation. The basic message is maybe okay, though it does feel like a course for MBTI "S"s on how to become more of an intuitive "N".The tone is intolerably smug, and factoids that are supposed to underpin certain outlandish theories are often given without reference to any reliable source. The American-centric point of view provides ludicrous distortions, such as in the passage where the authors discuss how on Sep 11, RNGs (random number generators) across the world started spouting non-random, correlated numbers because they sensed that humanity was suffering. As if that admittedly awful event was the greatest suffering that humanity ever knew.I'll admit "natural mystique" experiences can feel very real, but here they are presented as attempts of a volitional universe to communicate with humans. The weather also communicates with us, eg when thunder strikes, it is the universe communicating with us and blessing our meeting, etc etc. If the author of all this communication were described as a monotheistic deity, this book would be immediately dismissed. Since in this book the prime agent is described in new-agey fashion as the 'universe', some gullible people will find this inspirational (indeed, one of them recommended this book to me - I'll know what to do what any future recommendations by this person).In short, I hated it. I filed this under "drivel" and "comfort for small minds"
Also by Betty Sue Flowers