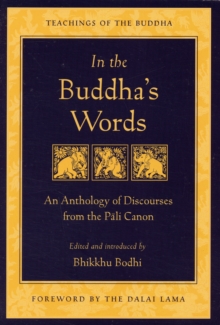 In the Buddha's Words : An Anthology of Discourses from the Pali Canon
Paperback
Information
Format: Paperback
Pages: 485 pages
Publisher: Wisdom Publications,U.S.
Publication Date: 28/07/2005
Category: Buddhism
ISBN: 9780861714919
Free Home Delivery
on all orders
Pick up orders
from local bookshops
Reviews
Showing 1 - 2 of 2 reviews.
Review by mcandre
16/06/2015
I would read this any day over the Bible. Whereas biblical parables have no meaning for me (Water in to wine? So what!), even when I was a Christian, parables from the Pali Canon are thoughtful and applicable to daily life.
Review by Tobias.Bruell
16/06/2015
This book is a selection of texts from the Pali Canon (translated into English) together with explanations/comments from the Editor. The book is divided into ten chapters. Each chapter first contains 10-20 pages of explanations in the form of a running text, then 40-80 pages of translated texts from the Pali Canon interspersed with a lot of footnotes (which can be found in the end, approx. 5-10 pages per chapter). The style of the whole text is very dry. The comments are unbiased and objective.The Pali Canon contains a lot of repetition; firstly there often is a lot of repetition in a single sutra; secondly various concepts/formulas (e.g., the four noble truths, the five hindrances, the six sense bases, the twelve factors of dependent origination, etc...) are found again and again in many different sutras. For me it was of great help to have these formulas identified and commented-on by someone who is well-acquainted with the underlying text. However, some of the comments (especially those in the footnotes, that often cite the traditional commentary) I found meaningless. For example the sutra on p. 359 says that each of the four noble truths is "actual, unerring, invariable." Footnote 52 on p.451 then explains that "unerring" here means "not falsifying its real natures; for suffering does not become non-suffering."The Pali Canon is often very esoteric. For example p. 163 where the Buddha claims that "an angry and irritable character" leads either to a rebirth "in a state of misery" or if one is reborn "in the human state, then wherever he is reborn he is ugly." It also contains quite precise lengths of time for lives of beings that are reborn in certain heavens/realms or as certain devas. By including these more esoteric texts the book seems to provide an honest picture of the Pali Canon; on the other hand reading these texts also felt a bit like a waste of time. Maybe it is advisable to concentrate on those texts from the Pali Canon that seem to contain verifiable truths.As a final note, the form described in the first paragraph (i.e., first comments, then several sutras, and footnotes in the back) often made me use three bookmarks at one time; I would have preferred a text that can be read more successively.