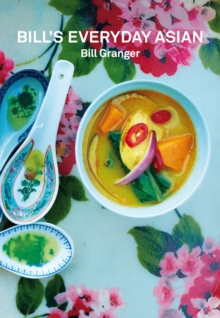 Bill's Everyday Asian
Hardback
Description
The big, bold taste explosions of Asia and the fresh, lively combinations of ingredients have had Bill Granger hooked since childhood.
To him, the Asian dishes he most loves to cook and eat aren't exotic but quick, easy and healthy everyday food, whether intensely fresh and zingy or deeply savoury and satisfying.
For Bill's Everyday Asian Bill has simplified his favourite classics to create the very best that Asian food has to offer, drawing on his own colourful and varied experiences: from a home-cooked dinner in Singapore to a businessman's breakfast in Japan, along with his most memorable flavour encounters at beach shacks, restaurants and roadside stalls.
Beef rendang, pad Thai, satay chicken and bibimbap have all been given the Bill makeover to tantalise the tastebuds and fit our busy lives.
Information
Format: Hardback
Pages: 256 pages, Over 120 colour photographs
Publisher: Quadrille Publishing Ltd
Publication Date: 01/09/2011
Category: National & regional cuisine
ISBN: 9781844009787
Free Home Delivery
on all orders
Pick up orders
from local bookshops
Reviews
Showing 1 - 2 of 2 reviews.
Review by presto
16/06/2015
I'm becoming quite a fan of Bill Granger's no nonsense approach to cooking, and this offering of Asian recipes follows in the same vein. Based on the self-taught author's own experiences of food from all over Asian, Japan, China, Malaya, Singapore, Vietnam, Thailand, Indonesia, Korea, and more, often with an Australian influence, he offers here a wide range of interesting recipes. These cover all courses from starters and soups through salads, seafood, poultry, various meats, noodles and rice, vegetables and tofu, and finally desserts.Following a very brief introduction BG offers his suggestions for a basic Asian pantry, those items you need to keep in stock for his Asian style cooking. This is not an extensive list, BG does not believe in absolute authenticity, rather that the desired result can just as easily be achieved using suitable and more readily available alternatives to the likes of "lotus roots and lily buds" - and I am very much with him here, I am very sceptical of the definitive recipe for any particular dish and have always been used to improvising, if nothing else it makes cooking much more fun.The recipes are clearly presented usually one to a page with a full page colour illustration/s on the facing page and invariable with a brief introductory or explanatory comment, a feature I always like in a cookbook. Scattered throughout the book are a number of additional Asian-mood photographs, all the pictures are somewhat soft focus and rather high-key, lending the book a bright and colourful feel.
Review by SmithSJ01
16/06/2015
What a pretty cover for a recipe book, as vibrant as the food; just as pretty without the cover as well (lovely pink). As someone who has a ton of recipe books covering a range of nations I decided "why not" when this came up as a choice for me to review. Having previously reviewed Bill's Basics in 2010, I remembered how good his recipes were to follow. The idea of it being an everyday book means I can have a change from something that I want to cook in the slow cooker for my convenience on a working week to this book where a lot of the recipes can be completed in short times. Yep I know another chef has a range of books covering 30 minutes (and I have that one too) but some of these are even shorter – perfect for after my toddler has gone to bed. His introduction isn't too much of a waffle and it is followed nicely by the chapter Bill calls his Asian pantry and lists a range of ingredients used in the recipes and explains what they are their flavourings – such as in the recipes themselves he uses light-flavoured oil and whilst I have a range of oils available it was nice to refer to this section of the book for a more detailed explanation of which oil and why. Before even getting to the recipes I've tried (six of them), the photographs needs a mention. The photography is excellent – including that of the places mentioned in the collection. Using the photographs with the recipes gave me an idea of serving; they are clear and such good quality.Right, the recipes. As I said, I've tried six of them: red fish curry, turmeric fish, stir-fried Vietnamese lemon grass chicken, spa-style poached chicken with sesame bean salad, Japanese curry and black bean beef. All of these were straight forward to make ranging from about 15 minutes through to the curry which simmered away for two hours. Whilst I really didn't like the turmeric fish – it looked awful and just was a bunch of nothing on the plate – the other five have been good. I might not have the poached chicken as it came like that, but I would be happy to use the separate components to make another meal. We'll definitely be going on to try more of the recipes in the book. I do think this book would make a good gift for a foodie because it isn't complicated and where he appreciates some of the ingredients are harder to acquire, he also offers alternatives.