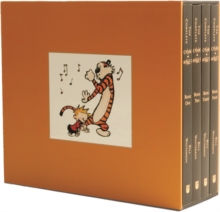 The Complete Calvin and Hobbes
Paperback
Description
Calvin and Hobbesis unquestionably one of the most popular comic strips of all time.
The imaginative world of a boy and his real-only-to-him tiger was first syndicated in 1985 and appeared in more than 2,400 newspapers when Bill Watterson retired on January 1, 1996.
The entire body of Calvin and Hobbescartoons was originally published in hardcover as a truly noteworthy tribute to this singular cartoon in The Complete Calvin and Hobbes.
Available for the first time in paperback, these four full-colour volumes in a sturdy slipcase include all the Calvin and Hobbescartoons that ever appeared in syndication.
This is the treasure that all Calvin and Hobbesfans seek.
Information
Format: Paperback
Pages: 1456 pages
Publisher: Andrews McMeel Publishing
Publication Date: 01/11/2012
Category: Cartoons & comic strips
ISBN: 9781449433253
Free Home Delivery
on all orders
Pick up orders
from local bookshops
Reviews
Showing 1 - 3 of 3 reviews.
Review by dono421846
16/06/2015
While we're all the poorer for the lack of Calvin and Hobbes in our newspapers, after reading the entire strip in a few gulps it becomes clearer why Watterson decided to end his masterpiece. He clearly had said what he intended, and towards the end the strip was on the verge of becoming, if not exactly predictable or a rehash of earlier themes, at least something short of his earlier work. It is often said that a true artist knows when to stop, and that certainly applies in this instance.
Review by Rosenstern
16/06/2015
Calvin is the paragon of a combination of satire, intellect, and philosophy. Plus the kid's a major ass sometimes. I love him for it, the crazy bugger. One of my favorite strips is when he's hammering nails into the coffee table and his mother walks in and yells "WHAT ARE YOU DOING" and Calvin, my hero, says with the blankest look on his face "Is that a trick question". If this doesn't prompt you to read it, you have no sense of humor and can't be my friend. In a serious tone, which I didn't know I had, I say to you- read this comic for it is worth your time. Calvin is there for you, to make you laugh, to make you think and to make you imagine.
Review by lycomayflower
10/11/2015
I've been working my way through this first volume of the complete set of <i>Calvin and Hobbes</i> for a few months now. What fun it is to revisit all these strips, in order, in such a beautiful presentation. Reading them in this book, with the dates for all the strips clearly printed underneath them, makes me wonder to what extent I ever actually read these in the newspaper. I have vivid memories of reading the individual collections as a kid, but looking at the dates of the strips I realized that it was unlikely I was looking at the paper when these were printed--the first ones anyway. I was only four years old when the strip started. That is a bit of a startlement--<i>Calvin and Hobbes</i> was so much a part of my childhood, it feels odd that the whole thing began so long before I could have had any appreciation of it at all. But in any case, this is a lovely collection (I have the boxed set of the complete paperback edition) with a nice introduction by Watterson and all the "additional" artwork from the individual collections. Recommended.