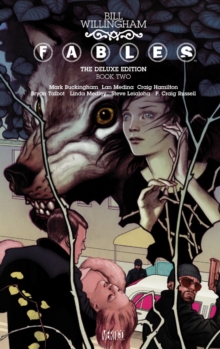 Fables Deluxe Edition HC Vol 02
Hardback
Description
For the first time in hardcover - Bill Willingham's acclaimed series gets the deluxe treatment in this volume collecting issues #11-18 of the Eisner Award winning series, along with FABLES: THE LAST CASTLE.
As Snow White recovers from a bullet to the brain, she and Bigby spend a lot of time in each other's company.
But when they announce that they'll be vacationing together, all of Fabletown is shocked.
The twosome are about to leave New York City and cross paths with a ruthless enemy lurking in the woods.
On sale NOVEMBER 17 * 264 pg, 7.0625" x 10.875", FC, $29.99 US * MATURE READERS
Information
Format: Hardback
Pages: 264 pages
Publisher: DC Comics
Publication Date: 17/11/2010
Category: Comics and Graphic Novels
ISBN: 9781401228798
Free Home Delivery
on all orders
Pick up orders
from local bookshops
Reviews
Showing 1 - 1 of 1 reviews.
Review by AHS-Wolfy
16/06/2015
The second of the deluxe editions collects stories 11-18 and adds The Last Castle into the mix as well. It also contains the prose only story of the first encounters between Snow White and Bigby Wolf called <i>A Wolf in the Fold</i>.Snow &amp; Bigby again take centre stage throughout the majority of this book and during the main arc, <i>Storybook Love</i>, we get to learn what drives the relationship between these two characters. Bluebeard fears his latest plotting will be uncovered so manages to enchant the couple and send them out of town with Goldilocks on their tail with instructions to keep them out of the way in a more permanent manner. Meanwhile, back in Fabletown, Prince Charming is looking into the activities of Bluebeard and discovers the plot to dispose of his former wife and her current beau (whether she realises that or not) and decides to dispense some justice himself. Though an ulterior motive does exist to tarnish the goody-goody sentiments of his actions.This book actually kicks off with a Jack of the Tales story and features an encounter with Death during the American Civil War where Jack wants to claim his just rewards from a Southern Belle who is suffering from a family curse and is about to expire from the mortal plain. Her disease hasn't ruined her good looks though so Jack vows to save her if she will give herself to him if he can prevent her death. This would probably be a good time to add that these books are not for kids and deal with adult themes and there is nudity depicted in the drawings.We also get to see what happens when an investigative reporter from the Mundy world uncovers the existence of Fabletown, wrongly believing it to be a community of vampires, and what plan the Fables come up with to deal with him and stop the story from getting out. There's also a cute Barleycorn story and the origin of Smalltown.Finally we have The Last Castle which is a real tearjerker detailing the final stand of the last bastion of The Homelands in their war with The Adversary which allowed so many to escape at the end. This tale is narrated by Little Boy Blue who acted as aide de camp to the commander of this Alamo like situation as he finds and loses love at the death. So many heroes stand together against an overwhelming force as they try and buy enough time for the last ship to make it out.Once again the artwork is magnificently shown in this hardback format really doing justice to the work of the artists involved. The book also includes some original drawings of the various characters so we get to see how they developed into the creations that made the final pages.