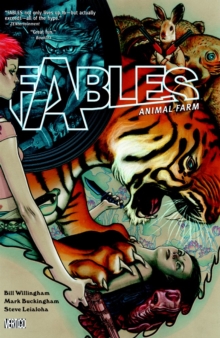 Fables TP Vol 02 Animal Farm
Paperback
Description
Collecting FABLES #6-10, the second story arc of the fan-favorite, critically acclaimed VERTIGO series.
Travel to upstate New York, where the non-human Fable characters have found refuge on a farm, miles from mankind.
But all is not well on the farm - and a conspiracy to free them from the shackles of their perceived imprisonment may lead to a war that could wrest control of the Fables community away from Snow White.
Starring Goldilocks and the Three Bears. Plus, a sketchbook section featuring art by Willingham, Buckingham and Jean.
Information
Format: Paperback
Pages: 128 pages
Publisher: DC Comics
Publication Date: 01/08/2003
ISBN: 9781401200770
Free Home Delivery
on all orders
Pick up orders
from local bookshops
Reviews
Showing 1 - 5 of 28 reviews.
Previous | Next
Review by bookwormteri
16/06/2015
Love this series!!!! love it love it love it. Imagine all your favorite fairy tales all grown up and with human flaws. They have been kicked out of their homelands and now live in New York City and are trying to blend in and keep their community cohesive. In this book the nonhuman looking fables (the three little pigs, the giants, shere khan and the like) who live up at the farm are revolting and have taken Snow White hostage.This series is a fresh look at ancient stories. It is enthralling and quaint all at the same time. To take characters that everyone knows and loves and put recreate them so that they are still recognizable but completely new is just amazing.
Review by abbylibrarian
16/06/2015
The saga of Fabletown continues with Volume 2, which collects issues 11-18 of the comic. The non-human members of Fabletown, who are forced to stay on a large farm in upstate New York, decide to collect weapons and plan to invade the homeland. When Snow White stumbles upon their plan she discovers that they will stop at nothing to get their way. What's more, she believes that even with all their weapons, they have no real hope of besting the Adversary. Another gripping installment of a very well-thought-out and innovative story. I've already got the next volume on hold at the library and can't wait to read it. Highly recommended.
Review by tapestry100
16/06/2015
The continuing adventures of the inhabitants of Fabletown, Bill Willingham's <i>Fables</i> series continues in the second story arc, <i>Animal Farm</i>. With the more "un"-human occupants of Fabletown not being able to live in NYC with those that can pass as human, they have moved into the Fabletown extension in upstate New York called the Farm. Feeling they are being treated unfairly, they decide to rebel against the rules and regulations of Fabletown to try and make it back to their homelands, until one of their number decides to take things too far.I continue to be impressed with this series. Bill Willingham is able to create ties between seemingly unrelated fairy tales and fables and create one of the most original stories I've seen in comics in a long time.This particular volume I felt fell a little bit from the strong beginning of the first volume, <i>Legends in Exile</i> and the prelude volume <i>1001 Nights of Snowfall</i>, but I still enjoyed it all the same. Looking forward to continuing reading this series.
Review by ElizaJane
16/06/2015
Now having read this second book in the series I am officially a fan and can't wait to get my hands on the next volume. This is very different from the first one which had a classic noir feel to it. This time around Animal is indeed an Orwellian reference. The non-human fables and those unable to to take human form live on a large plot of land that has been enchanted with a spell to keep humans away. This is called "The Farm" and a large amount of the population is unhappy with the rather prison like conditions. Though the place is nice enough and not lacking in any way there is still the fact they can't leave. I loved the thematic cross between Animal Farm and Lord of the Flies. Lots of new characters were introduced while Snow White and Rose Red remained main characters as from the first volume. In this book we meet the three little pigs, Goldilocks and the Three Bears, giants, a dragon, several animals from The Jungle Book including Baghera and Shere Khan plus many others.
Review by -Eva-
16/06/2015
Trouble is brewing at The Farm, where the Fables who can't pass for human are confined; led by Goldilocks, the Fables are planning a bloody rebellion and, since Bigby isn't allowed near the place, Snow White must work hard to outwit the leaders, which will prove disastrous for her health. Whereas the first five issues of the series introduced the Fables of Fabletown, these next five introduce those Fables who live at The Farm, and it does an equally good job at that. Although some come across as quite malicious, it is important that the difference between these characters and those fairytale characters they hail from is made absolutely clear; they may already have history in the fairytale world, but they are quite contemporary in their actions and their thinking. Happily Ever After is not a guarantee here - more likely, the exact opposite is to be expected when these characters show their true, non-traditional, colors.