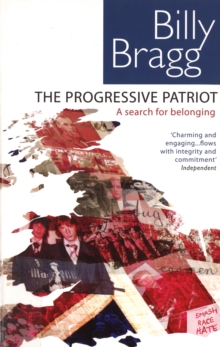 The Progressive Patriot
Paperback
Description
What does it mean to be English? What does it mean to be British? Is the cross of St George a proud symbol of a great tradition, or the badge of a neo-Nazi?
In a world where British citizens can lay bombs to kill their countrymen, where religious fundamentalism is on the increase and where the BNP are somehow part of the democratic process, what does patriotism actually mean?Our identity can change depending on what company we are in.
For example, someone could describe themselves British to one person, Scottish to another and, say, a Londoner to another, and be right every time.
But problems arise when someone tries to tell you what you are, based on your skin tone, religion, accent, surname, or whatever.
This book is Billy Bragg's urgent, eloquent and passionate response to the events of 7 July 2005, when four bombs tore through a busy morning in London, killing 52 innocent people and injuring many more.
A firm believer in toleration and diversity, he felt himself hemmed in by fascists on one side and religious fanatics on the other.
The suicide bombers were all British-born and well integrated into our multicultural society.
Yet they felt no compunction in murdering and maiming their fellow citizens.
Inclusivity is important, but without a sense of belonging to accompany it, what chance social cohesion...
But where does a sense of belonging come from? Can it be conferred by a legal document? Is it a matter of blood and soil? Can it be taught? Is it nature or nurture? The Progressive Patriot is a book we all need to read.
It pulls no punches in its insights and its radical vision offers a positive hope for a country teetering on the brink of catastrophe.
Information
Format: Paperback
Pages: 384 pages
Publisher: Transworld Publishers Ltd
Publication Date: 01/05/2007
Category: Rock & Pop music
ISBN: 9780552772426
Free Home Delivery
on all orders
Pick up orders
from local bookshops
Reviews
Showing 1 - 4 of 4 reviews.
Review by JonArnold
16/06/2015
In which Billy Bragg explains why patriotism shouldn't just be the prerogative of the right and why the left have equal reason to be proud of their country. It's a history of English dissent, pointing out that questioning our rulers and standing up for ourselves have always been great British traditions. It faces up to current political issues without looking to provide pat answers. And what makes it even stronger is that Bragg avoids point scoring from obvious targets such as members of the Thatcher government or right wing columnists but undermines them with relentlessly intelligent analysis and judicious research.Instead Bragg outlines and justifies what seems an unusual stance for a high profile left winger to take, and explains it with a fascinating mix of personal and family history and greater historical context. It's always engaging and expertly treads the fine line between oversimplification and too much explanation. Plenty of political writers could learn from Bragg's knack of making political issues relevant, interesting and accessible. Well worth a read for anyone interested in the history of British and English dissent or our national identity.
Review by othurtle
16/06/2015
Study on the meaning of patriotism and what it means to him. Brings in surprising amount about history and the development of social care and democracy. Apogee for him is collectivism. He is positive about central planning and governmental provision.
Review by dylanwolf
16/06/2015
I've never really had the courage of my convictions to take any political action in support of my socialist tendencies. I'm far too timid, comfortable and risk aversive to take political action on behalf of what I believe in. I'm the kind of wishy-washy left-winger who would be the epitome of Billy Bragg's eternal frustration. Mind you, he has got a talent to go with his politics which gives him a perfect platform. Nevertheless my socialism has always kept me well away from patriotism and the flag, whether the Union Flag or the St George Cross. I haven't got a burning pride in being English, though I do have a glimmer of pride in being from the Black Country. The Progressive Patriot is a rallying call to reassess the history of being English as a socialist egalitarian struggle against the ruling classes. Billy Bragg serves up an illuminating left wing synopsis of English history and states his case for his proud patriotism. It's an excellent read and I enjoyed it a lot even though my cynicism still reckons that being English is a lot easier for a Londoner - too much of our nationhood is centred on the capital.
Review by Partizanmeister
16/06/2015
Billy Bragg is a well known singer songwriter and activist, and this is a very personal account of English identity. He examines both the history of dissent in England and his own family history as a way of examining how he came to his own views, and rounds it off with a passionate plea for a proper, modern Bill of Rights in this country as a way of countering the rise of fascist organisations like the BNP (British National Party), who have been particulalry succesful, until recently, in his own East End of London. It's an interesting account of Englishness (rather than what it is to be Britis, for the Welsh and Scots seem more secure in their own identity), but it is rather uneven in the way it is written. At times the account becomes too personal, almost autobiographical, with long sections on the rise of Punk music and his part in the music scene of the time. Interesting in itself, but too much detail compared to the more measured historical analysis of English identity. Perhaps I was expecting more of the latter and not expecting the depth of autobiography, I certainly enjoyed that part more, and became restless when the focus switched back to his own family. Probably this should be two books not one, each one a litle more focussed...