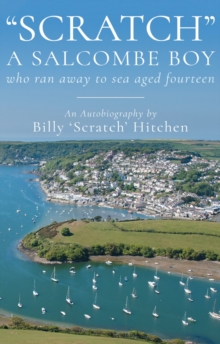 "Scratch", A Salcombe Boy : who ran away to sea aged fourteen
Paperback / softback
Description
An inspiring tale of one man's courage and determination... Easter1963. The end of the school holidays are approaching, butinstead of returning to school, Billy "Scratch" Hitchen ran away to sea - hewas just fourteen years old.
Before the age of nineteen, he had sailed aroundthe world five times. "Scratch"Salcombe Boy takes us on a wild ride around the world: from themountainous seas off Cape Horn, to the Indian Ocean and the Pacific, from themost southerly tip of New Zealand to the North Atlantic and Canada, from oildrilling and exploration in Argentina to the construction of oil pipelines inthe swamps and jungles of West Africa.
In 1973, Scratch finally returned hometo Salcombe in South Devon and went on to spend the next three decades fishingin every sea area, from Dover to Rockall. As Scratch tells the story, the reader will be drawn to thecharismatic writing and inspired by the sheer determination of the man whoovercame many obstacles, not least his lifelong struggles with dyslexia. Without reference to any written document or diary, the story he tells iswritten from the heart and carried in his soul.
Readers who delight in seaexploration and travel, as well as vivid, well-written autobiographies, will enjoythis fascinating life well lived.
Information
Format: Paperback / softback
Pages: 312 pages
Publisher: Troubador Publishing
Publication Date: 12/07/2018
Category: Autobiography: general
ISBN: 9781789014075