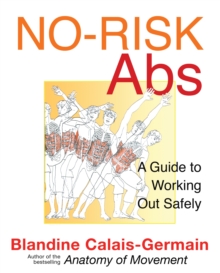 No-Risk ABS : A Safe Workout Program for Core Strength
Paperback / softback
Description
Presenting a new type of abdominal exercise programme designed with the body's anatomical relationships in mind, Blandine Calais-Germain reveals the 6 underlying principles for working the abs efficiently, 7 exercises to get you ready and the 16 most effective and safest abdominal exercises for a flat belly.
Pointing out that abs exercises are not without risk, she reviews the most common abdominal exercises, such as crunches and leg lifts and explains how to avoid injury to the neck, lower back, pelvic floor, diaphragm, prostate and internal organs as well as how to protect these vital structures with appropriate abdominal work.
Exploring this often misunderstood region of the body in her trademark anatomical style, Calais-Germain details the muscular structures that make up the abs, revealing that strength alone is not the sole factor in a flat stomach.
Including tips to get rid of belly fat - both superficial fat and deeper visceral fat - this book reveals how to get great abs, lose weight, gain strength and build your core, all without hurting yourself. * Presents the 16 most effective and safest abdominal exercises for great abs * Reveals how common ab exercises, such as crunches, can damage the spine, pelvic floor, diaphragm and internal organs * Offers tips to get rid of belly fat - both superficial fat and deeper visceral fat
Information
Format:Paperback / softback
Pages:160 pages
Publisher:Inner Traditions Bear and Company
Publication Date:29/06/2011
Category:
ISBN:9781594773891