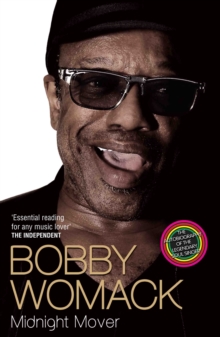 Bobby Womack : Midnight Mover
Paperback / softback
Description
Bobby Womack was born on 4 March 1944, and died on 27 June 2014, aged 70.
In a career that spanned two centuries and seven decades, the soul singer, songwriter and guitarist carved a niche for himself that has rarely been equalled, and never surpassed.
He is, quite simply, irreplaceable. A phenomenally gifted musician, his incredible talent helped him to escape the ghetto and become a star, with 30 million record sales to his name.
Yet behind his beautiful music lay a life scorched by tragedy.
Having trod the harsh edge of the music business for decades, he finally told his explosive story in Midnight Mover. From finding success with his family gospel group The Valentinos and being whipped into shape by James Brown and Jimi Hendrix on the chitlin circuit , to recording with Wilson Pickett, Eric Clapton and Elvis Presley, Womack s stellar career wove a colourful path through the history of soul, rock and R&B music.
His collaborations with other musicians read like a roll of honour, from Aretha Franklin and Ray Charles to The Rolling Stones and Damon Albarn. Success came at a price, however. Womack lost his friend and mentor Sam Cooke when the soul star was gunned down in a motel. A doomed marriage to Cooke s widow followed, which severely damaged his reputation in the music business.
Tragically, he lost two sons, one to suicide, as well as his brother Harry to a brutal murder.
His escape was to turn to drugs. Years of riotous abuse took their toll on Womack and those closest to him including Janis Joplin, who spent her last night drinking with the singer. But Womack s talent, searing guitar and soulful voice always survived.
Cited as an influence by myriad musicians, even in death he remains the epitome of cool.
Honest, insightful and unflinching, this is the authentic voice of the Midnight Mover, a supremely talented legend of music whose every day was lived to the full.
Information
Format: Paperback / softback
Pages: 228 pages
Publisher: John Blake Publishing Ltd
Publication Date: 07/08/2014
Category: Blues
ISBN: 9781782199847